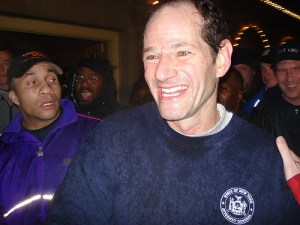 Eliot Spitzer: "I've never said I would never consider running for office again."
Spitzer also said "life's great."
Joe Percoco takes umbrage at even the slightest offense to his Andrew Cuomo.
Percoco makes A1 of The Times. (Here's my profile of Percoco from February.)
Newsday: Steve Levy "has gotten more than $200,000 in contributions from law firms and title companies that have received more than $7 million in county business since 2006."
Spitzer also talks to The Times.
Some Democrats eye a tax on Wall Street.
The Post looks at Bloomberg's cupcake policy.
Andrea Peyser still hates Cy Vance.
And Nicholas Kristof finds people wishing they were back in Rhodesia.