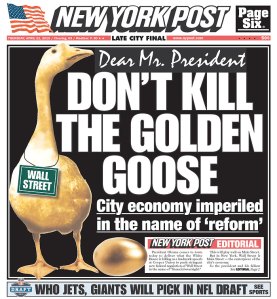 "A free market was never meant to be a free license to take whatever you can get," Barack Obama will say today.
The financial "crisis was born of a failure of responsibility," Obama will say.
Obama flirts with a Value Added Tax.
Gelinas says Obama's legislation and rhetoric don't match.
The Post isn't happy with Obama's proposal.
Where is Gillibrand on Wall Street regulation?
Steny Hoyer and Nancy Pelosi's aides are questioned in the Eric Massa probe.
The FBI is involved in the probe too.
National Review hits Paterson for leaving Massa's seat vacant.
Marty Golden predicts criminal action against Pedro Espada.
Authorities took more than 30 boxes of evidence from Espada's organization.
Bolt cutters were used to gain access to records.
John Sampson balks at removing Espada.
The Times looks at Desiree Pilgrim-Hunter, Espada's challenger.
Some state workers lose voice mail.
Michael Bloomberg can teach some people about being non-partisan.
Business Week crunches numbers on Schumer and Gillibrand.
Brian McLauchlin's son was busted.
Here's more on the proposed business owners bill of rights.
Tom DiNapoli tells the Observer Dispatch about the state's woes.
Carl Paladino is his own problem.
Errol Louis says the city's ethnic coalition is breaking up.