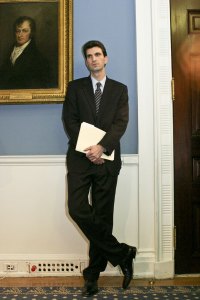 Even if he is the youngest deputy mayor in New York City history, and one of the most important advisers at City Hall, 37-year-old Edward Skyler is a starched and unthrilling man. He wears two phones on his belt, on different networks in case one is getting bad reception. He doesn't drink much, and if he does, he'll have a vodka martini, straight up with olives. He sips Canada Dry seltzer, through a straw.
He is said to enjoy hip-hop, but actually only listens to it on his condominium's basement treadmill. When he's walking down the street and sees a piece of graffiti, he gets the feeling that things are falling into disrepair, so he sends off an email, and he thinks that any member of the administration would do the same thing.
But starting next week, Mr. Skyler will not be one of them.
He is joining Citigroup as the chief of communications, leaving Mayor Bloomberg for an industry that has not learned how to talk about itself, its role in the gruesome financial crisis or its next era. Goldman Sachs isn't the only financial behemoth whose sporadic and mild contrition has been overshadowed by a self-destructive sneer.
Even in a field of huge communication woes, Citi stands out. There have been shifting spokespeople with shuffled roles, unstable authority and a jumble of bosses. "That place was the biggest freak show of a PR department I have seen in a long time," a communications executive at a rival firm said recently. So it wasn't a coincidence that in the opening of Citigroup's late-March announcement regarding Mr. Skyler, it said that he'll be reporting directly to chief executive Vikram Pandit, and serving on the executive committee. He'll be in charge of all external and internal communications, and will share leadership of government affairs. He'll have power.
There are lots of things a bank like Citigroup needs right now, and a reliable, efficient voice is one of them. Still, Mr. Skyler, who has never had a job in finance before, has a lot to learn: He's reading Michael Lewis' The Big Short, but hasn't opened his copy of Andrew Ross Sorkin's 600-page Too Big to Fail. And he may not be the only City Hall disciple headed out onto Wall Street: A New York bank executive said that Stu Loeser, the mayor's chief spokesperson, also has been talking to firms about a job.
ED SKYLER WANTED to be a jet fighter when he was a little boy, but he had bad eyes. Instead, he became a history major at the University of Pennsylvania, where he was a captain on the fencing squad. "It's never going to be easy," he told the Daily Pennsylvanian in 1995, "but I see no reason why we should not win."
"He'll go right down your throat," the mayor said in 2003, back when Mr. Skyler was his spokesperson. The Daily News dubbed him "Bloomberg's pit bull press secretary" after he threw a napkin in the face of a reporter who had inquired about the mayor's vacations. In an altercation on Thanksgiving morning, Mr. Skyler, who is 6-foot-4, was filmed telling another reporter, Andrew Kirtzman, to go fuck himself.
By the end of 2003, reporters were speaking of Mr. Skyler as "less gratuitously prickly." He got better at dealing with stress. "I also think that as the mayor gave him responsibility, he rose to the challenge and grew," Mr. Kirtzman said this week. "He grew in stature, and grew professionally."
When Mr. Bloomberg won a second term, he made Mr. Skyler the deputy mayor for administration, in charge of the police and fire departments, the Department of Sanitation, and offices like emergency management and labor relations. "Ed is the guy that gets it done," Council Speaker Christine Quinn said last week. In October 2006, when hundreds of pieces of human remains were found in a ground zero manhole, he coordinated the complex response. "It was handled delicately, and it was handled forthrightly, and it was handled with respect," Mr. Loeser said. "And that's quintessentially him."
His roles expanded. A year later, Mr. Skyler was put in charge of the departments of transportation, buildings and environmental protection. He also became closer to the mayor. Through the years, he's advised privately against certain policies of the mayor's, including the smoking ban, congestion pricing and, most notably, a third term. In all cases, though, he is said to have fallen in line. "If anyone finds one decision so awful, then they can leave," Mr. Skyler said Friday at a Woolworth Building breakfast held by the newspaper City Hall. Asked if that's what he did, he said, "No, that's not what I'm suggesting at all."