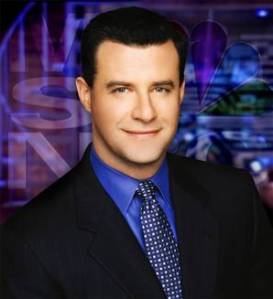 MSNBC announced Tuesday that the cable news network has suspended anchor David Shuster "indefinitely."
On Friday, The Observer reported that Mr. Shuster, whose contract at MSNBC will expire this year, recently shot a pilot for rival cable news network CNN, featuring Mr. Shuster and NPR's Michel Martin as co-anchors.
The news apparently took MSNBC executives by surprise.
MSNBC president Phil Griffin has disciplined Mr. Shuster in the past.
During the presidential campaign, Mr. Shuster was suspended for comments he made concerning Chelsea Clinton's role campaigning for her mother.
More recently, MSNBC reigned in Mr. Shuster's Twitter activity for criticisms he made about conservative gonzo-filmmaker James O'Keefe that were deemed by network execs to be inappropriate.