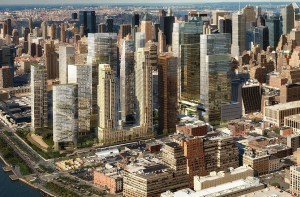 A $1 billion deal to develop the giant West Side rail yards is up for approval by an M.T.A. committee on Monday, as the development giant Related Companies has nearly completed an agreement with the M.T.A. to develop the property.
The deal calls for Related to begin paying rent on the property, a 26-acre swath of land over the LIRR yards south of the Javits Center, once the economy hits a set of triggers showing improvement. Previously, Related was to begin paying rent shortly after it signed a contract, regardless of economic conditions.
The deal has been pushed off repeatedly, and last year the two parties agreed to wait another year until the economy improved. In the meantime, Related did not try to renegotiate the amount of the payment, although by installing the economic triggers, it delays payments that the cash-poor M.T.A. had budgeted for.
With the final papers of the deal still unfinished, the contract will not be signed Monday (or Wednesday, when the M.T.A.'s full board has its meeting), according to multiple people familiar with the agreement; however, neither side has expressed worries that the deal is imperiled.