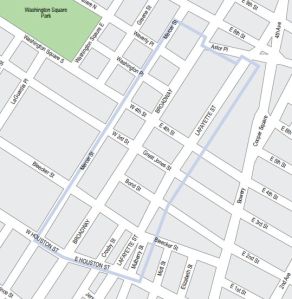 You know a neighborhood's no longer bohemian when a group of neighborhood business owners holds a conclave at a marketing company's offices to consider how to better market the area's "restaurants, architecture or Bohemian feel."
Noho, the "neighborhood" in question, is doing just that, according to an article in Wednesday's Wall Street Journal:
One idea, said Zeyd Rahman, a new-business director for Iris, is to aim straight at SoHo and sell NoHo as "what SoHo used to be."The notion would be to push NoHo as "the last bastion of the real downtown N.Y.C.," Mr. Rahman said. "We're sort of calling them [SoHo] out for the fakes that they are."

Some in SoHo scoff at the marketing effort. "You cannot create something that happened spontaneously and without planning," said Sean Sweeney, a 33-year resident of SoHo and director of the SoHo Alliance, a neighborhood advocacy group.

"It's like the ugly stepsister of SoHo thinking that advertising is going to make it more attractive to Prince Charming," he said.
Burn.
More here.
drubinstein@observer.com