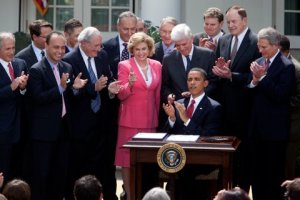 Rep. Carolyn Maloney announced she was endorsed by President Barack Obama, which should help her fend off a Democratic primary challenge from an insurgent candidate who is seeking to tap into younger voters–the demographic, of course, that voted for Obama in droves.
It's also a coup for Maloney, who had considered running for Senate against Kirsten Gillibrand, which would have put her squarely up against the White House.
"I'm proud to endorse Carolyn Maloney for re-election and to have her working with me for the change America needs," Obama said in a statement distributed by Maloney's campaign.
"New Yorkers are extraordinarily lucky to have her fighting for them in Congress– Carolyn has not only delivered again and again for New Yorkers, she's written groundbreaking legislation that is making a lasting difference in the lives of millions of Americans."
Maloney said she's "thrilled" to have Obama support and that it was "an honor to work with President Obama to achieve the historic healthcare reform bill, and I look forward to continuing to work with him in securing healthcare for 9/11 first responders, and creating thousands of more jobs for New Yorkers as we move forward with construction of a 2nd Avenue Subway and East Side Connector."
Also worth noting: Maloney's campaign web site seems to have gotten a makeover.
UPDATE: An interested reader notes the Obama endorsement is coming one day after Maloney's challenger out-raised her. [Clarification: Overall, Maloney raised more money than Saujani this quarter. But not all of it is eligible to be spent in the primary. A Saujani aide says they raised more money eligable for the primary this quarter than Maloney.]