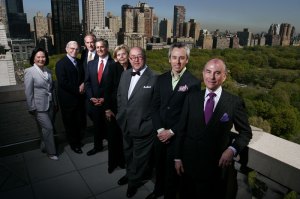 Last November, after three years of writing about magnificently overpriced New York residential real estate, I moved to the Wall Street beat. It is sober and civilized by comparison. What I feel nostalgic for isn't the real estate itself. Even though it's fun to visit cosmic Manhattan homes—like the hand-built third floor of the Plaza, the $34 million penthouse at 1020 Fifth Avenue or Brooke Astor's Park Avenue duplex—I only went when they were on the market. So they tended to be hollowed, or staged with fake furniture, and sometimes entirely empty. It was very kingly but slightly sad.
What I miss much more are the real estate brokers themselves, especially the few at the top. They were eloquent, acrobatic, cruel, connected, imaginative, well bred and ill-mannered, sometimes all in the same afternoon.
There were all kinds. Kirk Henckels was a good-natured equestrian who always wore a bow tie. Carrie Chiang was a competitive ballroom dancer. John Burger liked talking on the phone about the subtleties of Park Avenue co-op design, even if he was poolside in the Hamptons.
Dolly Lenz was the genius power broker who explained over lunch at the Four Seasons that she doesn't have tirades; she just cuts people out of her life. After I wrote a story that described how the recession had made her into a mere mortal, she stopped talking to me.
A. Laurance Kaiser IV, whose father died after leaving his Park Avenue club and stepping into a pothole, sold a single duplex at 834 Fifth Avenue four times—first for $225,000; then to John DeLorean; then to Reginald Lewis, the first African-American allowed into a so-called Good Building; then to Carl Icahn's old chief investor, who paid $33,444,500.
"They lie, the brokers—they lie to brokers, they lie to clients. There's lying. Lying," Linda Stein, probably the first New York celebrity real estate agent, told me in the spring of 2007. "There is no high except the money, which is extremely taxable." She was found murdered by her assistant that October.
And Edward Lee Cave was the pristinely genteel agent whose eponymous brokerage was taken over last year by Brown Harris Stevens. "When I first started, all the doormen had white gloves," he sighed then. "And they don't anymore. It's called change."