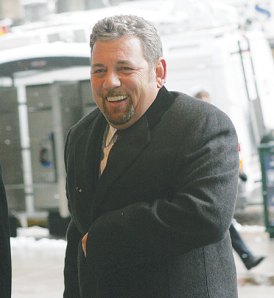 Newsday has a new policy for its sports page. The paper's editors have told their writers there has to be a new, softer tone. They don't want loaded words. They don't want name-calling. They don't want stories to be unnecessarily harsh.
In interviews with several staffers at the newspaper, the policy was explained to Newsday's sports reporters and columnists around the beginning of the year. Here are the early results: Stories have been killed because they didn't adhere to the new policy. One columnist left the paper in response. Reporters, both within the sports department and in the Newsday newsroom, are suspicious of the motives behind it. Depending on whom you talk to, the edict has either created a more informed and balanced paper, or it has left the faint air of censorship hanging inside the paper's Melville headquarters. "Anyone reading our sports coverage this year will see that it has been tough and fair, thorough and award-winning," emailed Newsday editor Debby Krenek in a written statement sent by a spokeswoman.
"It's rank censorship," said a current Newsday sports reporter. "You can't tell journalists that there are things to avoid and call it anything but censorship."
The new policy was initiated less than two years into the ownership of Newsday by James and Charles Dolan, the Cablevision execs who also own the Knicks and Rangers.
MORE> After Three Months, Only 35 Subscriptions for Newsday's Web Site
A spokeswoman said the Dolans had no role in the new policy.
"We want hard-hitting facts about the games and the people we cover, whether the news is good or bad," Ms. Krenek said in her statement. "My team and I believe this is the right direction for our readers."
But staffers say the new policy could leave people with the impression that a company that owns both a newspaper and sports franchises has conveniently revised its strategy for its sports coverage. "What's the old saying about perception and reality and perception becoming reality?" said a Newsday sports reporter. "That's what the perception was from Day 1 of their ownership, and over the last two months, it's become a reality."
Indeed that perception was taking hold within the newsroom.
"Everyone was kind of waiting for Cablevision to meddle with the sports department," said another Newsday reporter. "It seems like it's happening. I think that's how it's seen and that's how I see it."
"It's sort of depressing, but I'm not surprised by it," said yet another Newsday reporter.
"There's a general resignation to it all here," said one of our sources at Newsday. "It just feels like another blow to the integrity of the paper. The other shoe finally dropped. Cablevision bought us, and now it's finally happening."
Since the Dolans announced they had purchased Newsday, they've suffered a series of damaging bits of bad publicity. When they were closing the deal to buy the paper in May 2008, their spokesman scolded a Newsday editor who assigned a reporter to visit the Dolans Long Island home, seeking comment. Last year, Newsday's editor at the time, John Mancini, reportedly walked out of the newsroom because of a dispute over how the paper was handling the Knicks. In January, The Observer reported that in three months of putting its Web site behind a paywall, only 35 people had signed up for it. And in 2007, prior to buying the paper, The Observer detailed the emotionally draining war stories of how the Dolans treated Knicks beat reporters.
One sports columnist who left Newsday in the wake of the new policy is now speaking out about his experience.
In late December, Wallace Matthews, a veteran sports columnist, was told twice that the tone of the sports page would have to change, and he'd have to make an adjustment. A few days after the new year, Mr. Matthews handed in a column about how much better the Jets were for having Rex Ryan as their coach, especially when compared to his predecessors. In his first draft, Mr. Wallace called former Jets coaches Bill Parcells "surly" and Eric Mangini "something like 'he's about as communicative as a mummy,'" he said.
That's not exactly breaking from conventional wisdom—both coaches have been described in worse terms by local sports pundits. Nor is it really breaking from how tabloids cover local sports teams.
Mr. Matthews' lines were edited out and rephrased. "I said, 'Why?'" said Mr. Matthews, recalling the conversation he had with his editor at the time. "[Sports editor] Hank Winnicki said that Debby doesn't want name-calling.' I said, 'It's not name-calling.'"