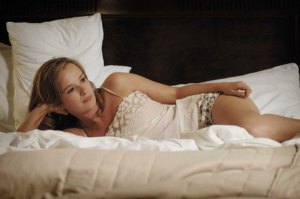 Film noir from Australia usually has a sinister, quietly controlled edge, and The Square is no exception. It's a rough ride by the Edgerton brothers, two popular stuntmen, actors and music video directors with a hearty following Down Under who have finally ventured into feature filmmaking, with this complex study of a heist gone terribly awry. Nash Edgerton is the director, and the script is by Joel Edgerton, who also co-produced the film and plays a key role. Joel is a critically acclaimed Aussie actor who made a splash on the New York stage playing Stanley Kowalski in a recent sold-out revival of Tennessee Williams' A Streetcar Named Desire, opposite Cate Blanchett.
In The Square, Ray (David Roberts) and Carla (Claire Van der Boom) are an adulterous couple looking for a way to get rich quick during the Christmas season, and to hell with the law. Ray is miserable in a loveless marriage. Carla is desperate to run away from a controlling husband who is a thief. There's all that money from his latest swindle, just sitting there itching to be snatched. The only way to leave no trace of the loot and make the cops believe it really disappeared, says Ray, is to burn the house down. So far, so good. Then they hire a professional arsonist named Billy (Joel Edgerton). Big mistake. Billy is such an unscrupulous, ruthless sleazepot that he makes everyone else look like amateurs. And how could he know that when he incinerated the house, there was a living person inside? Now to charges of burglary and arson, you can add first-degree murder. Then the blackmail notes arrive.
The Edgertons are a clever pair, all right, even if The Square seems repetitive and sometimes a bit hackneyed. (How many backfiring heist movies have we seen already with crooks dressed like Santa Claus?) But there are surprises. Just when it looks like the schemers are home free, Claire's husband grows suspicious and Billy the killer grows antsy. As one crime leads to another, the movie follows the two nefarious lovers as they lose control of their cool nerves and slowly go bonkers. The actors are first-rate, especially Joel Edgerton as a rancid thug without scruples, and Mr. Roberts as an ordinary bloke, unremarkable in every way, who sinks deeper by the day into a black hole of his own making. Working with a surprisingly small budget, director Nash Edgerton gets a lot of variety out of the changing locations and the many action sequences. (To save money, he did all of his own stunts.) In the end, tension builds, crime pays for all the wrong people and nobody ends up the way they planned. For the Edgerton brothers and for their protagonists, The Square works on several levels, as it shows how far two people will go for love and profit—in more ways than one.
The Square
Running time: 105 minutes
Written by: Joel Edgerton and Matthew Dabner
Directed by: Nash Edgerton
Starring: Joel Edgerton, David Roberts, Claire Van der Boom
2 Eyeballs out of 4

rreed@observer.com