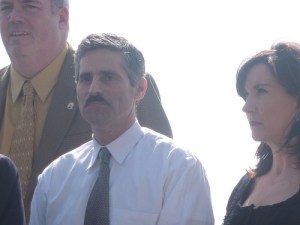 After testifying at the Charter Revision Commission meeting last night in Manhattan, Carl Paladino told reporters that he wanted term limits of state lawmakers, and didn't like that Michael Bloomberg extended term limits last year.
"You have a mayor and he went through a process and he changed the process. I wouldn't have voted for it," said Paladino.
Later, Paladino scoffed at criticism he got from rival rival Steve Levy, whom, Paladino called "a pretty boy" at around the 3:50 mark.