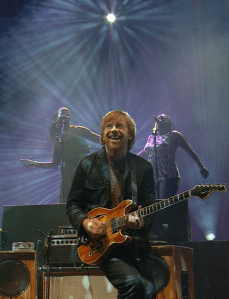 "Fuck the previews! Fuck the previews! Let's hit this!" a man in the front row of the ancient-looking Pavilion Theater on Prospect Park West said this week. "You can do it!" someone else said. "You can do it!" a third person shouted. "Never!" someone added, but not in a mean way. Everyone was just excited.
It was April 20, and the theater was full for a debut screening of Phish 3D.
It's not hip to love Phish. Last month, Vanity Fair executive online editor Michael Hogan wrote an item called The Top Five Most Tolerable Phish Songs, and he only listed three. Mr. Hogan twice used the phrase "white-boy reggae rhythms," which isn't completely unfair. The band spends a lot of time easing in and out of jolly, expressive, stretched-out grooves, but if you happen to be too sober to dance along, the music can sound awfully pale and freckled.
So spending two hours with a three-dimensional jam band concert movie and the people who were thrilled to see its debut might not sound like fun.
But it was. The screening was smelly, goofy, and wildly enjoyable.
The movie opened with "AC/DC Bag," which sounds like a happy mid-70s Stevie Wonder pop tune, except that it's really long and its lyrics are nonsense. Smoke started to fill the theater just as the film gives its first big shot of Phish's drummer, Jon Fishman, who wears a muumuu when he performs. Car-sized puffs of smoke wafted up from the concert audience, too. The man in the front row, wearing his 3D glasses, lifted his arms and pawed toward the screen like a kitten.
"There was a year where pretty much I woke up at 5 am, you know, set my alarm for 5 am, dropped a couple of tabs of acid and went back to sleep," Mr. Fishman once said, "it would wake me up at 7:30 and I'd go to school. I got my best grades that year and I had a good time and for me it was like a sense of humor kind of thing."
"AC/DC Bag" is one of the Phish songs that got its start in the senior thesis that Mr. Anastasio wrote in the 1980s, at a Vermont college called Goddard. Sometimes facts about Phish sound like they were made up by people who were out to be insulting: The thesis was not only called The Man Who Stepped into Yesterday, for example, but it was about a fictional place called Gamehendge and a terrible dictator.
Yet the song about him, "Wilson," came later in the movie, and it was terrific. It's hard to be too offended by a back story's silliness when it's so easy to tap along.
Phish 3D was filmed last autumn at a three-day, eight-set California festival called, un-creatively, Festival 8. The movie's acoustic middle section, which includes "Wilson," had songs that were rural and tanned, but some that were very mid-tempo and very middle-aged. So it was a relief when the wonderful soul singer Sharon Jones and members of her Dap Kings came out for the film's final third, built around covers of the Rolling Stones' Exile on Main Street. These were slightly balding people from Vermont covering drug-addled British musicians who aped Southern American blues, but, still, most of the songs sparkled. They were thick and giddy.
Even though the look of Phish 3D isn't particularly beautiful, everything pops out colossally. You can make out circus wigs and bunny costumes in the audience, the name of the model of pianist Page McConnell's Hohner, and even a box of tissues tucked away on the stage. But there's nothing particularly fancy or fun about the concert's design, which is odd. Wither the giant color-changing eyeballs, or at least a sea of psychedelic light? (A jam-band web site blamed the breezy, haze-less outdoor conditions.)
That puts more pressure on the music, and the band's singing is likeable but not steady. They sound like a tipsy barbershop during the jaunty refrain of "Mike's Song."
Mr. Anastasio's guitar is better: He plays an instrument the color of maple syrup, and it shows. His tone is sweet, pretty and cozy. Even when he's playing quickly, the notes are laid-back. As he played, someone in my row filled up a balloon that had a glow stick inside of it, started bouncing it around the theater, and then did a headstand. (There were balloons on the screen, too, which looked better).
The theater exploded into spasms of applause for Mr. Anastasio's best swells, especially on the songs "Maze" and "Tweezer," which take their time to twist, curl, zigzag, and climb. During two crescendos, the man in the front row stood up, faced the rest of the audience, and held up his arms in a proud V.
But the roar from the 40,000 people popping out from the screen, especially when the band left the stage, was unlike anything I've ever heard on film or in person. It wasn't just loud, it was gargantuan.