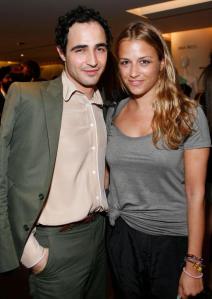 Zac Posen's mom has returned to her post as CEO of his company, following a three-year break from the position. And having your mom as your CEO is great, reports the Wall Street Journal, assuming that your mom is a hardcore mergers and acquisitions attorney:
As Zac prepared to launch a fashion career, Mrs. Posen perused a contract from an investor proposing to back her son. "The terms were egregious. I had smoke coming out of my ears," she says. "It appeared to be a partnership. But there were certain triggers and they would have ended up owning Zac."
Her guidance has been especially important as Posen prepares to launch his lower-priced Z Spoke line:
He isn't abandoning his Zac Posen runway line. The luxury brand "informs every decision we make," says Mrs. Posen. "Is this brand-neutral, brand-negative, or brand positive?"
We see the potential for a whole parenting strategy here. That haircut: brand-neutral. Taking time off school: brand-negative. Calling more often: brand-positive, in a big way.