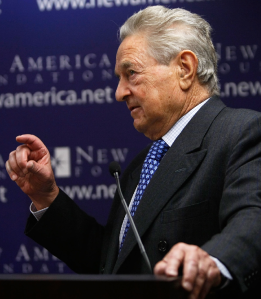 The covers of the Wall Street Journal and the New York Times' business section today both have huge stories on Wall Street pay. And they look very different.
The Times story, "Pay of Hedge Fund Managers Roared Back Last Year," says that the country's top 25 hedge fund managers made $25.3 billion last year, easily beating the old 2007 high. It even shows the top ten: David Tepper, George Soros, James Simons, John Paulson, Steve Cohen (the only tie-less investor of the group), Carl Icahn (in bowtie), Edward Lampert, Kenneth Griffin, John Arnold and Times investor Philip Falcone. It's enough to make hardworking regular people want to riot.
The front page of the Journal, meanwhile, leads with "CEOs See Pay Fall Again." "The boss took another haircut," the article's opening says, "as CEO compensation edged lower in 2009, the first time in two decades that pay declined for two consecutive years."
It's enough to make hardworking businesspeople want to riot.
Elsewhere, the Journal even reports that "CEO perks are disappearing in the aftermath of recession and amid public outrage over executive pay." The paper hones in on Dish Network CEO Charles Ergen, who "earned the distinction of having the harshest drop in pay." He got $623,100, 92.5% less than his compensation a year earlier, "even though the company's stock doubled."
The article does not point out that the executive with the third-largest drop, Avon's Andrea Jung, still made $6.8 million last year.
The mixed messages about financiers and compensation is enough to make a hedge fund manager's or chief executive's head spin. Indeed, today's Boston Herald reports that Highfields Capital Management's Richard L. Grubman Jr. was ordered away from the Ritz-Carlton Hotel and Towers on Boston Common by a judge yesterday after allegedly "hurling his BMW keys into a valet's face."