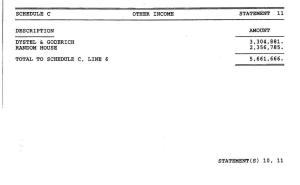 Like a good American, the President paid his taxes today–$1,792,414 to the federal government he oversees.
According to his return, most of the president's money came from two book-related sources: $3,304,881 from the literary agency Dystel & Goderich, and $2,356,785 from Random House.
For a total of $5,661,666 in book-related income.
Why the two different sources? Random House declined to comment and Jane Dystel didn't immediately return an email, but another publishing source explained that Mr. Obama only used the agency for his first book–which came out back in 1995 when he was years away from being a household name. Before signing a deal for The Audacity of Hope, Mr. Obama enlisted Bob Barnett, an attorney who reportedly bills $975 per hour instead of taking a commission.
The first number–you'll notice–is bigger, suggesting the former book is outselling the latter.