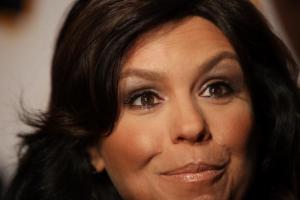 We were only allowed to ask Rachael Ray one question at the Can-Do Awards dinner benefiting the Food Bank for New York City on Tuesday, April 20, so we tried to make it a good one (and curb our urge to ask her about that whole Dunkin' Donuts keffiyeh tempest a while back): What was her first germinal experience in the kitchen?
"Ironically, my first memory of food is a pretty painful one," Ms. Ray responded. "I was trying to mimic my mother. … I wasn't even high enough to see the top of a huge restaurant griddle, and I grilled my thumb. My whole thumb is pretty much dead to the touch," she said, wiggling it for effect. Yikes—an inauspicious start for a kitchen careerist! "You would think that would scare me away from the stove, but I got over it," she said with a laugh.
Queer Eye dining guy–turned–Food Detective Ted Allen had a much less scarring story to relate: He said he realized he was a foodie in the dining room of the Ritz-Carlton in Chicago, back when it was under the stewardship of Chef Sara Stegner. "It was the first time I ever had a Sauterne dessert wine with chocolate cake. And the idea that a golden-colored white wine could complement something as rich and intense as chocolate, it was like lightbulbs and bells and stars and whistles," Mr. Allen said.
Stanley Tucci and Anthony Bourdain wandered by, but we were deep in conversation with Mr. Allen, who also recommended an underrated restaurant near his home in Clinton Hill: Locanda Vini E Olii. "It's in an old 1800s drugstore and they kept all the fixtures from the drugstore," he explained. "They've been there for like 12 years, long before the neighborhood gentrified. So if you want an experience … Their house wine comes in carafes, and the way they decide how much to charge you is they put a stick in it after you're done, to see how much you've drunk." Just like Mom used to do.
Emeril Lagasse, who was honored at the event for his support of the Food Bank, was in a rather serious mood. Asked whether he thought New Yorkers need to worry about this tomato shortage we've been hearing about, Mr. Lagasse launched into a technical analysis of oxygen and rainfall levels that lost us about halfway through. (Apparently, the tomatoes are going to be okay … we think.) We also asked whether he had any good kitchen-disaster stories—a dish that didn't go off quite as planned, perhaps? "We suffered a pretty major disaster with Hurricane Katrina, so I think that was enough of a disaster for a while," Mr. Lagasse replied. We felt appropriately guilty for the rest of the night.