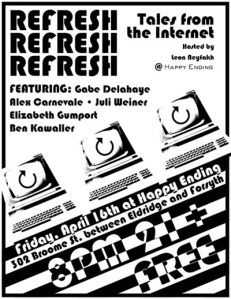 You there, on the Internet: Perhaps you'd be interested in hearing some people at a bar tell stories about the Internet.
Leon Neyfakh (of Leon Neyfakh fame) will be hosting a reading tonight, featuring such notables as Alex Carnevale (of This Recording), Gabe Delahaye (Videogum), Elizabeth Gumport, Ben Kawaller and Juli Weiner (VF Daily/until recently Wonkette). Leon may also tell little Internet stories or jokes, or perhaps initiate audience-participation activities, depending on how the mood strikes him!
It's at Happy Ending–302 Broome Street–from 8 p.m. to 9:30 or 10ish.