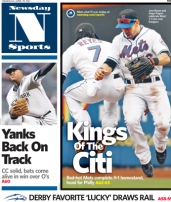 Before he even had one byline for the paper, Yankees beat reporter Jim Baumbach has left The Journal. He is returning to Newsday.
"It's over. He made a decision. We're moving forward," said John Seeley, the editor of The Journal's Greater New York section.
"Happy to be home!" tweeted Mr. Baumbach earlier today.
Sources familiar with the situation said that Mr. Baumbach had disagreements with editors at the section and decided to make a move before it was too late. One source said that he was on the West Coast to cover the Oakland A's series last week, but didn't continue on the rest of the trip (this was before the Greater New York section launched). They also said that Mr. Baumbach had reservations about continuing the day-to-day grind of returning to a baseball beat. When asked about this, Mr. Seeley would not comment. Mr. Baumbach, via email, also declined to comment.
Mr. Baumbach represents the second sudden departure from a section that, as of today, is only four days old. Kate Taylor, an arts reporter and former colleague of Mr. Seeley at The New York Sun, stunned staffers by leaving The Journal for The New York Times last month for a similar job on the culture desk.
Mr. Baumbach is returning to a sports desk at Newsday that has recently instituted a new policy in which it is asking its writers to shy away from name-calling or harsh language. The reaction to it has been, to put it gently, mixed at best.
Darren Everson, a reporter at The Journal, is filling in on the beat for the Greater New York section.
UPDATE: An earlier version of this post said that Mr. Everson is the new beat reporter. He's filling in until they find a replacement.