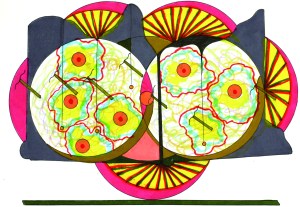 Musician Ric Ocasek spent a chunk of his life looking out at audiences in giant rock 'n' roll arenas, but recently it was a crowd of art lovers and well-wishers who took him by surprise.
"I was shocked by the big turnout," said the former vocalist and rhythm guitarist of the popular 1980s rock band the Cars, about the first New York gallery show of his artwork. "It felt strange having so many people look at my works. They are abstract and very personal. To be honest, I felt naked."
Cinders Gallery on Havemeyer Street in Brooklyn was packed late last month as the musician-turned-artist opened the whimsically titled "Teahead Scraps," only his second art show ever. The exhibition, up through April 25, consists of colorful, abstract drawings, prints and photographs ranging in price from a modest $100 to $1,500.
These days, Mr. Ocasek, 61, keeps quite busy, mostly as a music producer who has helped shape the energetic sounds of Hole, Weezer, No Doubt, Bad Brains, the Killers and scores of other struggling and successful bands. But he said he's been creating art since his youth–he unwinds by making abstract drawings. "I've been drawing for most of my life. It's like thinking on paper," he said.
The former frontman (Todd Rundgren briefly toured in his place with "The New Cars") is not alone as a rocker-turned-artist. Singer Marilyn Manson is widely recognized for his artistic talent, and Kiss' Paul Stanley and the Rolling Stones' Ron Wood have made second fortunes in their side careers as artists. John Lennon's sketches have fetched high prices at auction. So is there an affinity between the professions?
"The process of drawing is the same as writing a song," explained Mr. Ocasek. "They both start with a blank page." For him, "art is a way to release tension and to organize my thoughts. It's something I do while pondering an outcome. The drawings start with a shape and explode from there."
Said Mr. Ocasek, "I've done a few canvases with acrylics, but my main medium is drawing on paper, mostly with colored markers." In terms of style, "I like all kinds of art, but I'm most attracted to Pop Art." Mr. Ocasek added: "I also make photographs. I've always shot photos."
At Cinders, his drawings range from $700 to $1,500; his photographs are $400; his prints (in an edition of 20) are $100; and his limited-edition zines go for $20. Several works sold at the opening, and more have sold through the Web site, said Sto, Cinders Gallery's co-founder.
Mr. Ocasek had his first show last year at Mahan Gallery (where his daughter-in-law is the director) in Columbus, Ohio; Mahan helped arrange the current solo show at Cinders. Sto said his star artist is "new to showing his work but enthusiastic." He's also "awesome to work with."
While Mr. Ocasek isn't known as an artist, his band was certainly known for the visual design of its groundbreaking videos. "You Might Think" used early computer-animation technology to pop the singer's head onto a lipstick, a fly and a periscope in a bathtub, as he chases the woman of his dreams. (It won video of the year in MTV's first-ever Video Music Awards, in 1984.) A year later, in "Magic," the star walked on water at a pool-party scene.
The "Drive" video starred his future wife, supermodel Paulina Porizkova (they've been married 21 years), and for "Hello Again," Mr. Ocasek got to know Andy Warhol, a man he considers his greatest artistic influence. Warhol co-directed and played a bartender in the video. "I love Andy Warhol. I appreciate his ideas and what he's done for the art world," Mr. Ocasek said.
As for his own role in the art world, the rock star stressed that the show and his art isn't about fame for him. "I'd make work, whether I showed it or not," he said, adding, "I see art everywhere; it doesn't have to be a museum or a gallery. Art is a frame of mind."
editorial@observer.com