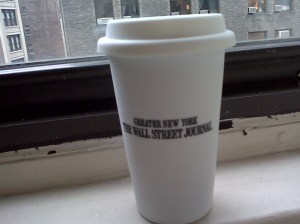 "We are a national newspaper with a New York heart," said Les Hinton, the publisher of The Wall Street Journal, in his British accent. "We are, after all, named after a famous Manhattan street."
It was just after 9am on Monday morning, and Mr. Hinton was providing opening remarks at the Journal's launch breakfast for its Greater New York section. The event was held in the Grand Ballroom at the Plaza. Lox, cream cheese and bagels, along with yogurt and quiche, was served. Mostly advertisers and reporters filled the room.
Outside the hotel, the evidence of a broadsheet war was evident, with New York Times street hawkers positioned at every corner of the hotel, offering $2 copies of The Times. The paper put a Michael Bloomberg investigation on its front page. An hour before the press conference, Times publisher Arthur Sulzberger and CEO Janet Robinson sent out a memo that was widely circulated to the press that listed demographics–and some dry jokes–at why Times readers are so loyal and loving.
By time Journal editor Robert Thomson presented to the audience this morning it took him a mere 58 seconds to land a punch at The Times.
"There is no doubt there is demand for a competitor in this market," he said. "Over the past decade, the New York Times circulation, in this region, has fallen by 40 percent. It has been a decade of decline. And that is not just because of the upheaval in the newspaper industry. Readers have voted with their purses, wallets and credit cards."
That's been Mr. Thomson's pitch since we chatted with him two weeks ago. New Yorkers want a new newspaper to read. Mr. Thomson believes it'll be the Journal (particularly readers who–ahem!–carry purses, the women readership being a key part of their fight).
The first 20 minutes of the presentation were led by Murdoch lieutenants with funny accents (Mr. Hinton is British, Mr. Thomson, an Australian). Then chief revenue offier and self-described native New Yorker Michael Rooney took the stage with the salutation, "How ya doin'?," finally showing that this wasn't an entirely alien operation.
The boys on the stage were on good behavior when it came to the Times-bashing. There were little pokes here and there, but for the most part, they stayed quiet.
"It's appropriate to have competition and you get a little bit of the argy-bargy that goes with competition," said Mr. Thomson, when a reporter tried to bait him to say something nasty about the Times. ("Argy-bargy": Now there's a term you don't often hear in greater New York!)

Instead, Mr. Thomson emphasized that the New York section's war doesn't just include Mr. Sulzberger's newspaper.
"We're not just competing with the old print media set," said Mr. Thomson.
He referred to the second newspaper as "anachronistic," adding that they're competing with whatever number of news sources you read on your BlackBerry.
"We have to be extremely flexible with who we think our competitors are, not just in the nature of content itself, but in the way people receive it," he said.
Most of them stayed on message, and seemed to review their talking points memo carefully. Both Mr. Hinton and Mr. Rooney kept discussing how the New York section makes the Journal a "complete paper;" Mr. Thomson and section editor John Seeley, both said the New York section will provide a "wide canvas" of coverage.
If there's one point that doesn't seem to have the clearest of messages quite yet it involves WSJ.com.
Two weeks ago, Mr. Thomson told us that "nothing, virtually nothing" would be available for free. If you click on wsj.com/ny today you can find a whole series of articles available for free. I asked Mr. Seeley if today was a special exception and he said that the amount of New York content would reflect the rest of the site-some free, some not free.
That seems to suggest that more will be available, at least at first, then Mr. Thomson let on.
Mr. Seeley did say that the Metropolis blog–what appears to be the Journal's version of City Room or Daily Intel–will be free.
How long will this last? It's unclear, but Mr. Thomson recently told us that, "if you look at where the wall is at The Journal, the wall is moving in one direction."
Indeed, that was another point he made today, after he spit at the "superciliousness" of the "bourgeois" journalistic elite that couldn't make up its mind on whether or not to charge for content.
By time the breakfast had ended, there were gift bags for a room that included mostly advertisers. Inside, there was a ceramic mug bearing the section's new name, courtesy of MoMA, and a free copy of the Journal.