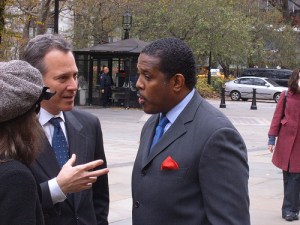 At the Stonewall Democratic Club last night, I ran into State Senator Eric Schneiderman, who is running for attorney general in part on his ability to take on the wrongdoing in Albany.
I asked him about State Senator Kevin Parker, a fellow Democrat who had a volatile outburst at a recent hearing and went on the radio yesterday calling some Republican lawmakers "white supremacists."
At first, Schneiderman grimaced at the question, pointed to another AG candidate, Eric Dinallo, and said, "Talk to my lawyer."
Later, Schneiderman said Parker's behavior may be unseemly, but not something that rises to the level of the AG's office.
"I"m talking about cleaning up unethical conduct. I'm talking about people stealing money who are stealing money from public programs. We have people who are assaulting people. The fact that one senator yells at another senator at a meeting may be tremendously discourteous, may be wrong, but, you know, I don't think it's the kind of thing that comes under the jurisdiction of the attorney general's office," Schneiderman said.