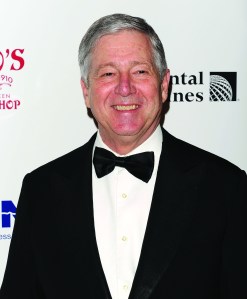 On the afternoon of Monday, April 12, about 20 moneymen from some of the city's biggest banks crowded into the upstairs dining room of Le Colonial, overlooking 57th Street, for a semi-formal lunch with Serbia's unofficial highness, Crown Prince Alexander II.
As the prince, wearing a gray suit, touted Serbia's economy, the moneymen-pinstripes, rimless glasses-drank white wine and thumbed through their place settings: a folded paper menu, with a sepia-toned photo of a half-dressed Vietnamese woman; the prince's business card; and three different "Invest in Serbia" handbooks, which answered such questions as "Where Is Serbia?"
Next the prince took questions.
"How have you found the attitude in the country toward the monarchy?" asked one of the guests.
"Positive," said the prince. "Three days after the revolution, I was here in New York, and I got a call: 'President, come back.' They wanted me to move into the compound, and we negotiated that, and I moved in a few months later."
He told the group they should all come visit him.
"One of the architects of the royal palace was a Russian, and he told my grandfather, 'Leave it to me to do the basement, and I'll make something you really like.' So he made a mini-Kremlin. So you go in there and there all these remarkable colors. And you walk in there, the entrance room, there's a replica of Ivan the Terrible's throne room," he said.
The prince also told tales of more powerful power lunches than this one.
"I have it from the horse's mouth-that is, Putin-we'd like to see you in the European Union because that's where you belong, but we know you're a good friend of Russia and maybe you can help us with our image. This is from the horse's mouth, over lunch at the Kremlin," he said.
He talked about how Serbia has nicer cars now, good media and a really great music festival. And yet he seemed to miss New York City, where he lived for a time and frequently visits.
"I like New York very much, I always did. My parents used to come here very often. I was excess baggage," the prince said.
"They liked to stay at the Carlyle. I remember the Carlyle. They bought the apartment across the entrance from the Carlyle and put me in there with a nanny-an Irish nanny, who was a lovely person," he said.
"On Madison?"
"No, on-what was it-76th Street? I would cross the street, and while I was waiting in the hallway to say good night to them, I'd make water bombs and shove them down the mail chute," he said. So Eloise!