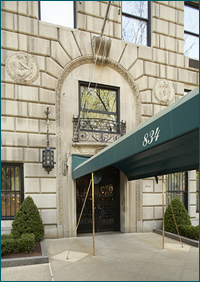 The co-op at 834 Fifth Avenue is the kind that would most certainly disdain denim-wearers at a board interview (current owners include Rupert Murdoch, Paul Cejas and John Gutfreund). But what if you are a denim heiress?
Well, apparently, that's O.K. According to city records, brokerage baron Charles Schwab and his wife, Helen, have sold their petite penthouse on the building's 15th floor to Miriam (Mimi) Haas, Levi-Strauss executive Peter Haas' widow and current chairwoman of the company, for $12.5 million.
One may ask why Mr. and Mrs. Schwab would sell hallowed square footage in the Gold Coast beauty, referred to by many as the superlative residential building in Manhattan. Well, because they currently own both the penthouse upstairs and the significantly larger layout on the ninth floor. In trend with traveling south for the winter, Mr. and Mrs. Schwab scooped up that apartment—six floors south of their winter abode—in 2007. Clearly, the view from the top wasn't worth the small square footage because the couple famously paid $27.7 million for the ninth-floor apartment (it was listed for $16.5 million).
And with good reason. Brown Harris Stevens broker, Kathryn Steinberg, who has worked extensively in the building but was not involved in this deal, told The Observer, "It's the nicest building in New York. The size and scale of the rooms are perfect." Sotheby's Roger Erickson, who we presume brokered the deal, considering he had the listing, albeit briefly, has said of the creme de Candela's creme,"It's as if it were created by someone in heaven who knows exactly how we should live."
Last September, The Observer reported the Schwabs' ghost-like listing of the petite affair on the 15th floor. Listed with Mr. Erickson for $14 million, it remained on the market but a New York minute before being taken "permanently off the market," according to a broker's database. The phantom listing was not, despite appearances, a chimeric event but rather a rare reminiscence of pre-Lehman zest.
Ms. Haas, who, like the Schwabs, is San Francisco–based, made an offer on the apartment before any other brokers had a chance at it. One broker told The Observer, "The listing was down before anyone had a chance to make an appointment to show it."