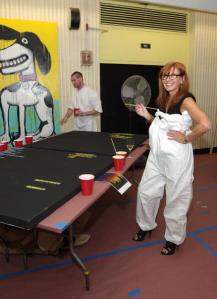 "Well, I don't have any pants on, and this is just a black top," designer Nicole Miller told the Transom when asked what she was wearing at Publicolor's Annual Stir, Splatter and Roll Benefit-also on Monday, April 5. Ms. Miller was standing hunched over two canvases she had designed for the event. Paintbrush in hand, she focused on the thin, horizontal strokes of marigold yellow she was adding to a cityscape. We pointed out that her top was stained with a smidgen of yellow paint near the neckline. "Let's hope it's water-soluble!" she said. On her feet were studded black Givenchy stilettos. "Good painting shoes, right?"
Publicolor is a not-for-profit that uses color and design in schools and community centers to mobilize and inspire at-risk students in New York City. For the benefit, a dozen celebrity designers, architects and artists had created stenciled designs to be carried out on site by partygoers with Benjamin Moore paint.
The result was an odd convergence of Louboutined ladies-who-lunch gamely suited in paint-splattered polyethylene painters' suits. Fashion directrice Fern Mallis, in a magenta-vermillion ombre tunic, helped designer Jeffrey Banks color his canvases; sculptor Mark di Suvero oversaw the masking-tape removal from his own canvas design. "I think people really love to get in the paint," artist Will Cotton, who created two luscious, swirling lollipop paintings for the benefit, told the Transom.
When Mayor Bloomberg arrived, Publicolor founder Ruth Lande Shuman struggled to call the crowd to attention, beseeching over the microphone, "I promise you can continue painting in a few minutes. Ladies and gentlemen, please put your brushes down!" As the crowd continued to prattle and paint, the mayor, with his signature addled-Elmo expression, quietly begged Ms. Shuman to let everyone keep painting: "They're happy; they don't wanna stop." She was undeterred, finally handing the microphone to the mayor, who spoke mostly about baseball and ended calling all the evening's volunteers winners, like the Mets (whose victory he had witnessed earlier that afternoon).
Downstairs in the school gym, which had been transformed, Cinderella-like, into a brightly colored gala dinner, artist Christo milled around his table, waiting to be seated. "We are very, very senior friends with Ruth"–pronounced deeply as Rooot–"for over 30 years."
Why didn't he design a canvas for tonight's event?
"I'm not painter, I am sculptor."
When the Transom pointed out that others, such as Nicole Miller, were not painters, Christo replied wistfully, "Ah, but they are very gifted. They can do many things. I am very boring person."
The artist was saved by the approach of Commissioner Ray Kelly. "This is a dear friend who keeps our city very important," Christo said.