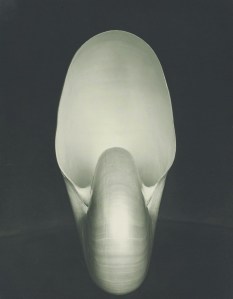 One day last week, two prints of Edward Weston's Nautilus, a famous image of a seashell, sat on a cluttered table inside the photography department at Sotheby's. The department's director, Denise Bethel, and her colleague Christopher Mahoney stood by, examining the prints closely. The first, which Mr. Weston printed himself in 1927, is nearly shadowless, devoid of lines, a single shape floating in darkness. The artist's son Cole printed the other in the '70s from the same negative. He turns the image on its head, both literally and symbolically: It's about contrast and reflective light, gloss and bombast. In a word, glam.
Ms. Bethel estimates the price of Mr. Weston's 1927 print to be between $300,000 and $500,000 ("very modest," she said). His son's print is being sold, too, as part of a portfolio, at Sotheby's on April 15, but if it were sold as a single item, Ms. Bethel would estimate its price to be between $3,000 and $5,000. "People pay millions of dollars for the difference between the two prints," she said.
So what is a photograph worth? As critic André Bazin once wrote, if the medium were put under psychoanalysis, its primary desire would be that of embalming the dead. But what if we put the collectors on the couch? What do they want? One thing is for certain: for good or ill, the answer will be known next week, after a huge slew of multimillion-dollar auctions and elaborate gallery exhibitions in New York.
It was only in 1989 that a photograph—a Weston nautilus shell, in fact—broke the six-figure margin at auction. Since then, the price of a photograph has steadily grown, passing $1 million five years ago. As New York prepares for the blitz of selling at Christie's and Sotheby's, the field is in a unique place. It's facing a recession. Buyer tastes are changing. There have been sweeping changes in the tools and technology of the medium (the rise of digital photography and the phasing out of certain films, papers and processes, for example).
At these auctions, the entire history of photography, from early daguerreotypes to contemporary images (and even Polaroids), is represented, and some of works are indisputable masterpieces. But, with exceptions, many of these images—though beautiful, sometimes rare prints—are ones we've seen before. Although the fine-art field has seemed to be recovering recently, will buyers shell out the big bucks for another Nautilus shell?
"It's a fashion-driven industry," said Laura Paterson, senior vice president of Christie's photography department. "Some people will have enormous influence in one period, then their market softens up. It's cyclical."
Some determinants of value, of course, are more or less set in stone, Ms. Paterson said: a quality print, a unique relationship between the photographer and the original buyer and, most of all, rarity—and proof of it (part of this is because it's so easy to produce photographs now, and lots of them). And people want what they haven't seen before. The photographs at Christie's keenly awaited April 14 Irving Penn sale belong to the personal collection of Patricia McCabe, Penn's assistant for 30 years. Penn gave her 67 prints during their time together, primarily as Christmas presents, and most have never been displayed, even in Ms. McCabe's apartment. "It is one of those wonderful stars-aligning kind of situations," Ms. Paterson said.
Estimates range from $18,000 for a Hell's Angels print from 1967 to up to $150,000 for a rare edition of Mr. Penn's famous Cuzco Children from 1948. What's the value of the McCabe provenance, the fact that she owned it? At Phillips de Pury & Co., another print of Penn's Cuzco Children is assessed at $60,000 to $80,000.
Right now, the field's current fashion are such masters of Modernism as Edward Steichen, László Moholy-Nagy and Weston. Also, Henri Cartier-Bresson, who is the subject of a major exhibition at the Museum of Modern Art opening this week, pops up in many of the sales.
Bryce Wolkowitz, a gallerist in Chelsea who deals with contemporary photographs, cites the period between the two wars in Europe and America as the main interest in the market right now. "You were 70, 80 years from the advent of photography," Mr. Wolkowitz said. "There was enough of a grace period for artists to truly immerse themselves in their craft, to take everything from the past and bring it into the future. Not only in how they saw things, but how they presented them on paper."
Nevertheless, photography experts spoke about increasingly being asked by collectors about problems with fakes, with fading issues (especially of color photographs) and with changes in how works are made. "We're in the middle of a huge transition in photography," said Andrea Meislin, a gallerist who specializes in contemporary photographs. "Some processes are becoming obsolete, while new technologies are being invented all the time." For example, for decades, photographs printed on gelatin silver paper were the most expensive; now, such paper is not being made, she said.
Nonetheless, photo experts advise collectors not to get too caught up in the new technology banter. As Mr. Mahoney, a Sotheby's senior vice president, noted, "We've got Xerox copiers now; it doesn't change the value of the Declaration of Independence."
mmiller@observer.com