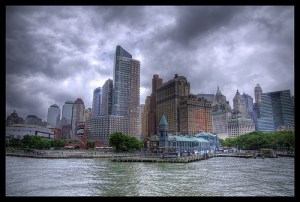 After more than a year of negotiations, the Bloomberg and Paterson administrations have finalized a deal to each take $200 million from the cash-rich Battery Park City Authority and plug holes in their budgets.
The deal, signed Monday after a Battery Park City Authority board meeting, also creates a $400 million fund intended for affordable housing, a pot of money that was first promised back in 2006 when the city altered the well-used residential tax break known as 421-a.
All of the money comes from Battery Park City's plush coffers, which are filled with rent payments from the now-valuable real estate on the state-owned land mass, which was initially constructed with landfill from the old World Trade Center. While it nearly went bankrupt in its early years, the 92-acre mix of apartment towers, office buildings and parks is now considered to be wildly successful and is hailed as a model for public/private development. (That said, the city and state often tend to push for mega-projects instead, offering a giant site to one developer, as opposed to gradually selling off small sites parcel by parcel to individual developers.)
With regard to the money for the budgets, negotiations between the city, state and city comptroller (first Bill Thompson and now John Liu) dragged on well past when the Paterson administration first proposed the concept early last year, in part over concerns about borrowing costs. Mr. Thompson, as comptroller, was previously skeptical of aspects of the deal, however he signed off on it Monday in his new role: as chairman of the Battery Park City Authority board. (Downtown Express first reported the action).
The total amount of money taken from the Battery Park City funds is $861 million, to be paid out over at least the next seven years.
The Battery Park City funds have long been eyed, and sometimes directed, for affordable housing. However, as a well-researched Independent Budget Office report from 2004 details, the reality has been that very little of the money over the years has ever ended up going toward housing.
Battery Park City today is now almost completely built out after more than four decades of gradual construction. Given that the Battery Park City Authority's mission—to supervise the area's development—is now complete, there have been many calls to disband it entirely (the authority's vice chairman, Charles Urstadt, its first chief executive, has called for its disbandment).
Full agreement here.