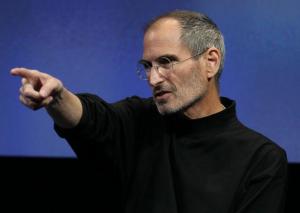 Steve Jobs, wizardlike figure of awe and marvel, and his magical iPad: What do they mean for publishing? Ken Auletta explores this question in the most recent New Yorker.
Following the pricing showdown between Macmillan and Amazon over Kindle ebook sales, Apple looked like the good guy in the publishing world. But how long can the goodwill last? And how well do Apple's interests align with publishers'?
For the moment, Jobs is the publishers' best ally. "Steve is very proud that Macmillan put a gun to Amazon's head," the insider said. But in the long term Apple and Google will not necessarily be better partners than Amazon. One day, they, too, will complain about the cumbersome publishing process, or excessive prices. Just days before the iPad went on sale, on April 3rd, there were rumors that Apple might list best-sellers for as little as $9.99. Apple agreed to the agency model for just one year, and, as publishers are acutely aware, Jobs has a history, with music and television companies, of fighting to reduce prices. One publisher said, "Maybe Apple will want to come back in a year and bite our heads off."
"Very proud"! And possibly cruel! How sweet.