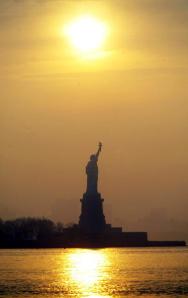 Clouds of volcanic ash prevented much of New York's publishing world from traveling to the London Book Fair this week, but the scouting division of Sanford J. Greenburger Associates was determined to make the best of things.
While they didn't have boarding passes, they did have party supplies: a small roof, bunker-style camaraderie, and too much prosecco.
"Everyone here has been booked on at least two flights," explained one Greenburger scout.
A guest from William Morris Endeavor said that she'd been on six.
What would they do with their refunded plane tickets? What would they do with their extra energy?
"There's no one here to sell anything to!" cried one guest upon arriving.
Across the Atlantic, luckier colleagues were reportedly joking about pushing tables together to play ping-pong in the deserted agents' center. Stateside, entertainment options were more limited.
"I watched some BBC America to get my fix," said the girl from WME.
Agnes Krup of Greenburger lamented a wasted pedicure–although, she admitted, she wasn't sure who she had expected to see her feet in London.
It was getting a little chilly outside on the roof, but everyone stayed, maybe as a point of pride. The view over Fifth Avenue was exquisite, and there wasn't a cloud in the sky.