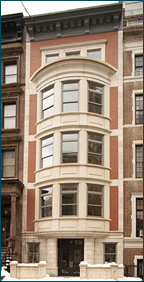 Without doubt, a most desirable opportunity in challenging times."
Such was the claim portentuously made at the end of the listing for the pristinely renovated, facade-landmarked townhouse at 12 East 63rd Street. Bathed in Austenian portent, it sounds more like Elizabeth Bennett's option to marry her bumbling cousin Mr. Collins than like a $24.5 million property listing.
But while the Pride and Prejudice heroine failed to take advantage of her opportunity, an undisclosed foreign buyer did just that with the 25-foot-wide mansion between Fifth and Madison avenues, buying it for $19.66 million.
With over 13,000 interior square feet, the seven-story townhouse has two terraces, a rear garden, a potential roof garden and 11- to 12-foot ceilings. Craig Dix of Key-Ventures, who represented the buyer with A. Laurance Kaiser, told The Observer, "It's really an amazing opportunity. It's completely open inside like a loft space. It affords someone the opportunity to live in a place that can be changed completely."
The property, which has been on the market for two years, most recently with Brown Harris Stevens' townhouse guru, Paula del Nunzio, has undergone a renovation with a "brilliant bowed facade" in the Beaux-Arts Classical Revival style, with new Indiana-quarried limestone and Roman butter joint bricks. The listing crows, "this mansion offers both: the rare opportunity to acquire the best location with the freedom to pay for just what you want in a mansion."
Which confirms that, in this rare instance, you can buy your townhouse and build it, too.
cmalle@observer.com