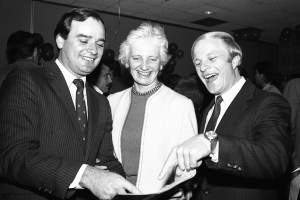 Bob Franks, a former four-term Congressman who passed away Friday evening, worked on his first political campaign back in 1966, while his family was living in suburban Chicago: the fifteen-year-old helped Republican Charles Percy unseat Democrat Paul Douglas, the three-term United States Senator from Illinois.
One year later, after moving back to New Jersey, Franks worked on the 1967 campaign of two young Republicans making their first bid for public office as State Assembly candidates in Essex County: Thomas Kean and Philip Kaltenbacher. With Franks' help, Kean went on to win two terms as Governor of New Jersey; both Kaltenbacher and Franks would serve as GOP State Chairman under Kean.
After graduating law school, Franks became the field director for former Senate President Raymond Bateman, who was running for governor. Bateman won the 1977 GOP nomination (defeating Kean in the primary), but lost the general election to the Democratic incumbent, Brendan Byrne.
In 1978, Franks was the political director for James Courter, a former Assistant Warren County Prosecutor who was challenging two-term Democratic U.S. Rep. Helen Meyner. Courter's political team included two of Franks' closest friends, Roger Bodman (who later held two cabinet posts under Kean), and Alfred Fasola, who was Kean's budget director. Courter won a narrow primary victory, and then topped Meyner in the general election.
After the Courter campaign, Franks prepared to launch his own career as a candidate, seeking the Republican nomination for Union County Freeholder in 1979. State Sen. Peter McDonough's unexpected decision to leave the Legislature for a private sector opportunity set off a contest between the district's two GOP Assemblymen, Donald DiFrancesco and William Maguire, for the Senate – and opened up an Assembly seat. Franks switched to the Assembly race and mounted an extraordinary grass roots campaign to beat Berkeley Heights Mayor Marie Kisseberth at a convention for the organization line in Union County.
The general election was no cakewalk in a politically competitive district that included the Democratic strongholds of Plainfield and Rahway. Franks' aggressive campaign style helped him win a decisive victory against the Democratic candidate, Walter Boright, Union County Freeholder and former Scotch Plains mayor.
As a freshman Assemblyman, Franks became actively involved in the early organization of Kean's 1981 campaign for governor; Bodman and Fasola would later join him in the historic race against Jim Florio. Kean's 1,787 vote win was the closest gubernatorial campaign in state history. That same year, Franks' political relationships paid off when redistricting switched his 100% Union County district to 50% Essex County. Even though Maguire had seniority, Essex County GOP Chairman John Renna, who had backed Bateman in the '77 primary, gave the Essex line to Franks. Franks was the easy winner in his re-election bid against Roseland Mayor Richard Leonard.
Congressional redistricting posed a threat to Courter's career in 1982 when the district was drastically altered to include considerable new territory. Franks managed Courter's campaign against a significant GOP primary challenger, Morris County Freeholder Rodney Frelinghuysen. In 1984, Franks managed the congressional campaign of Assembly Minority Leader Dean Gallo, who unseated eleven-term Democratic Congressman Joseph Minish by a wide margin. In 1985, Franks played a major role in a statewide campaign operation that helped Republicans pick up fourteen Assembly seats and capture majority control of the State Assembly for the first time in a dozen years.
Franks became the Assembly Majority Conference Leader in 1986, and following the resignation of Col. Frank Holman, the Republican State Chairman in 1987. Franks held the post for two years, and then returned in 1990.
In September 1992, U.S. Rep. Matthew Rinaldo dropped his bid for re-election. Franks entered the race for Congress and won a special GOP convention against then-Somerset County Freeholder Michael Pappas. He beat Leonard Sendelsky, a real estate developer from Woodbridge, in the general election. Franks won re-election to the House in 1994, 1996 and 1998. He later served as a key member of the House Budget Committee, where he forged a close friendship with Chairman John Kasich, and as a House Public Works and Transportation subcommittee chairman.
After Gov. Christine Todd Whitman changed her mind about running for the U.S. Senate, Franks entered the race for the GOP nomination. He defeated State Sen. Bill Gormley and Essex County Executive James Treffinger in the primary. He began the general election against Wall Street millionaire Jon Corzine more than twenty points behind, but in one of the most spectacularly orchestrated campaigns in modern New Jersey history, he came within just a few points of winning despite being outspent by more than $65 million.
In 2001, Franks sought the Republican nomination for governor after a scandal forced the incumbent, DiFrancesco, out of the race. But Franks was unable to overcome a strong challenge from the right, and lost the GOP primary to Jersey City Mayor Bret Schundler.