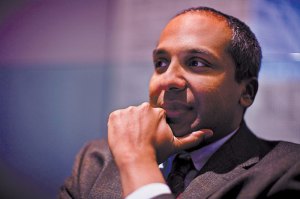 On a recent Tuesday, some 65 middle-aged authors, editors, producers and publicists, and other survivors of New York's battered old-media landscape, gathered at Columbia's Journalism School for the first installment of a four-week course on how to use the social media sites Facebook, LinkedIn, and Twitter. It was taught by Sree Sreenivasan, a 39-year-old professor who was introduced, to applause, as one of Ad Age's "25 Media People you should follow on Twitter."
Wearing a green dress shirt and a purple patterned tie, Mr. Sreenivasan stressed that the course was about more than sharing photos efficiently. This was about long-term survival! As with agriculture and economic development, sustainability was crucial. "How do I do social media and keep my family intact?" he said. "How do I do social media and keep my day job?"
Left unsaid was the inverse question, the one that is increasingly nagging an entire generation of anxious, anti-Internet Nellies: Can I ignore these silly sites and keep my day job?
Tuition for the course was $495. The class would meet once a week for two and a half hours. Setting up a Facebook and Twitter account was a prerequisite.
Homework would be assigned. Twenty would-be enrollees were too late and were turned away. Demand for Facebook and Twitter instruction was booming, according to Mr. Sreenivasan. Later in the week, he would be giving workshops at The Washington Post and National Public Radio. "I want you to get in the habit of seeing things around you and using it to bring people together," he said.
The trick was not to think too big. Earlier, Mr. Sreenivasan had been walking through the J-school and passed a board highlighting upcoming talks by Arianna Huffington and Nicholas Kristof. He sensed an opportunity for "convening power," and snapped a photo with his iPhone. He showed the class how to upload the photo onto a Facebook fan page, and how to compose a caption aimed at sparking debate. After fielding suggestions, Mr. Sreenivasan framed up the photo as a competition between Ms. Huffington and Mr. Kristof. "Who ya got?" wrote Mr. Sreenivasan.
Next up was how to tag and untag photos and the importance of "curating" one's online profiles. Throughout the audience, Facebook rookies followed along with varying degrees of excitement, agitation and confusion. "In social media," said Mr. Sreenivasan, "there are no correct answers."
NOR ARE THERE such things as social media experts, said the professor who might easily be mistaken for one. Mr. Sreenivasan has been teaching at Columbia's J-school for 17 years and is now a dean there. During that time, he has written extensively about technology for a wide variety of publications and reported on tech issues for local TV stations in New York, including WNBC.
Recently, Mr. Sreenivasan has become something of a Twitter celebrity. He has more than 11,000 followers. Earlier this year, he told the class, he served as a judge at the Shorty Awards, which honors excellence on Twitter. His fellow judges, he said, included MC Hammer and Alyssa Milano.
The four-week course for media pros was adapted from one Mr. Sreenivasan regularly teaches students at the J-school. On the first day of those classes, Mr. Sreenivasan said, he always tells the students that if their parents found out they were paying Columbia tuition for their children to learn Facebook and Twitter, they'd probably ring up the school and call for his head on a shiv. But social media in 2010, Mr. Sreenivasan argued, was like the Internet in 1996, TV in 1950 and radio in 1912: a revolutionary medium still in its infancy. Advantages accrued to those who adapted the right technologies early.
Mr. Sreenivasan told a story about how in 1950, Don Hewitt, the legendary creator of 60 Minutes, walked into the Columbia J-school and told the cub reporters that he would offer a job on the spot to any student who would join him at CBS television. Most of the students were wary of TV. They wanted jobs at newspapers and in radio. But the one student who took Mr. Hewitt up on his offer, said Mr. Sreenivasan, went on to enjoy a rich and celebrated career in TV.
Since social media was so new, Mr. Sreenivasan assured his class, it wouldn't take them too long to catch up. They had fallen behind, but not irreparably so. They should all be reading the Web site Mashable.com, Mr. Sreenivasan recommended, describing it as The Wall Street Journal of social media. Recently, à la Hewitt, Mashable had shown up to recruit at the J-school. One of his students, Mr. Sreenivasan said, took a job with Mashable while turning down a paid internship at The New York Times.
The crowd gasped. "Don't tweet that," said Mr. Sreenivasan.