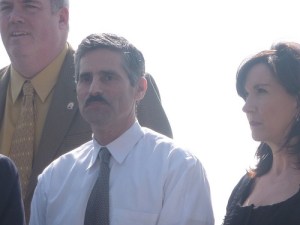 12:30 p.m. Christine Quinn speaks to the Bronx Chamber of Commerce, 1913 Bronxdale Avenue.
2 p.m. David Paterson, Dan Maffei and Ray LaHood discuss distracted-driving initiatives, at Schine Student Center at Syracuse University.
3 p.m. Maffei and LaHood discuss air service, Hancock Airport in Syracuse.
5 p.m. Maffei hosts a FEMA Fire Grant Workshop, 100 East Miller Street in Newark.
6 p.m. Mike McMahon raises money at 2547 Cropsey Avenue in Brooklyn.
6 p.m. Tony Avella raises money with help from John Sampson and Jeff Klein at 233 Broadway.
6 p.m. Maffei speaks to the Webster Rotary, 30 East Main Street in Webster.
6:30 p.m. Lexington Democrats have their annual dinner, 8 East 69th Street.
7:30 p.m. Steve Levy is the scheduled guest at the Queens Village Republicans meeting,.
8:15 p.m. Paterson speaks at the Council of Urban Professionals' annual dinner, 635 West 42nd Street.