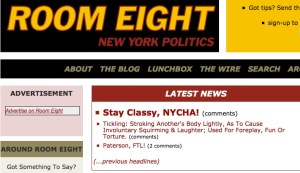 9 a.m. David Paterson is interviewed on 1010 Wins.
9:30 a.m. Paterson speaks to WCBS 880 AM.
10 a.m. Carl Paladino talks with Fred Dicker.
10:15 Dan Maffei tours R.D. Specialties, Inc. and discusses health care, at 560 Salt Road in Webster.
11:05 a.m. Paterson speaks with Susan Arbetter on WNYC Capitol Pressroom.
11:45 a.m. Maffei speaks at the Rochester Rotary luncheon, at Rochester Riverside Convention Center.
12 Noon. Rick Lazio meets with Delaware County Republicans, at 14 Gardiner Place, in Walton.
3:45 p.m. Lazio greets voters at Cascades Restaurant, 407 Warren Street, in Hudson.
4:30 p.m. Lazio meets Republicans and Conservatives at Cascades Restaurant, 407 Warren Street in Hudson.
5:30 p.m. Joe Addabbo has a community meeting about tax liens, at 96-01 Jamaica Avenue in Woodhaven.
6;15 p.m. Maffei meets with boy scouts, at 6658 East Townline Road, in Williamston.
6:30 p.m. Jose Serrano has a community meeting about the census, at 115 East 106th Street.
Tomorrow: 7 p.m. Room 8 bloggers get together and drink, at the Waterfront Alehouse, 155 Atlantic Avenue, in Brooklyn. [The event is tomorrow. NYCPoliticalCalendar.com, a good website, listed the event incorrectly as tonight in Manhattan. Sorry.]
7 p.m. Senator Amy Klobuchar of Minnesota chats with DL21C, at 37 West 17 Street.
7:30 p.m. Jimmy Oddo hosts a Civic Roundtable at the Hilton Garden Inn, 1100 South Avenue, on Staten Island.