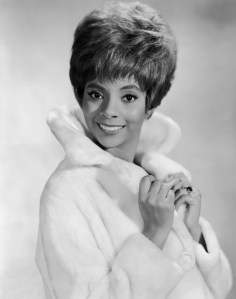 Leslie Uggams has been around, but at 67 the mileage doesn't show. At the Carlyle, where she is tearing up the upholstery through April 17 in a new show called Uptown Downtown, she proves that if you take care of yourself, don't smoke or sip even one drop of chardonnay, eat right, vocalize daily and do all the things the health gurus and fitness Nazis tell you to do that take all the fun out of life and bore you half to death, you too can still look and sound the same as you have over six decades, getting standing ovations everywhere from Harlem to the White House.
Well, maybe not exactly the same. I mean, this supersonic talent began her career at age 6, playing Ethel Waters' niece on the Beulah show; began at age 9 belting out 29 shows a week at the famed Apollo Theater, and continued doing so for eight years, playing to audiences that could not believe their ears; and became a household name as a 15-year-old contestant on Name That Tune. She hasn't forgotten a thing. In fact, she's singing stronger than ever. So Uptown Downtown is a perfect title for her first appearance on a New York nightclub stage in almost 20 years. She began uptown; worked her way down to Greenwich Village by the time she was old enough to cut off her pigtails; and ended up in the middle, winning a Tony award for her Broadway debut in Hallelujah, Baby! with a marvelous score by Jule Styne, Betty Comden and Adolph Green. (She also played Cleopatra in an ill-fated musical flop called Her First Roman, but she makes no mention of that one at the Carlyle. Too bad, because I'll bet she's got some backstage stories that are real doozies.) What you get in this jubilant musical journey is a trip down Memory Lane, arm in arm every step of the way. It's a great trip, and she provides the postcards.
Accompanied by a five-piece band headed by the world-class pianist Don Rebic, the gamine with the still-dynamic vocal power refurbishes the legendary lyrics Leonard Gershe wrote for Judy Garland on "Born in a Trunk" to fit her own life, as she shares amusing reminiscences of her honorary "aunts and uncles" from the Apollo days—Louis "Satchmo" Armstrong ("Up a Lazy River"), Ella Fitzgerald ("A-Tisket, A-Tasket") and Dinah Washington, with her five husbands and a potty mouth that turned the air bluer than pot smoke ("I Wanna Be Around"). She takes chances. A swing-trot tempo on "Hello, Young Lovers" from The King and I gives the Rodgers-Hammerstein ballad an adventurous feel. She can belt out Gershwin material from Porgy and Bess in a voice big and rich yet restrained in all the right places. The aching but rarely heard torch song "Being Good" (from Hallelujah, Baby!) makes you wonder why more song stylists haven't investigated it for themselves. On Jerry Herman's "If He Walked Into My Life" (from Mame), her signature vibrato on the ends of notes is shiningly intact, with a musical intensity that informs the lyrics, but she's also grown. Her voice is pure and lusty, but a spirituality has crept in—which should make her the perfect choice for the new musical she's planning about the life of Lena Horne. She has an elegant allure, and a perfect artistry, yet she's as down to earth as potato salad.
There's no UGH in Uggams. She is splendid all the way.
reed@observer.com