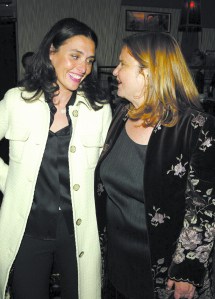 When the storied Stanhope Hotel turned luxury condop in 2007, sales were sluggish, even in that pre-Lehman gilded age. After more than a year on the market, the grand duplex penthouse at the rebranded 995 Fifth Avenue did go into contract. Listed for $47.5 million, it sold to Claude Wasserstein (or Bruce, rather) for a leanly chopped $34,758,839.
According to industry sources, the half-French third wife of the late Lazard tycoon and New York magazine owner, Bruce Wasserstein, is now attempting to quietly list the 7,000-square-foot penthouse with Sotheby's Mon Ling Landegger—for $65 million.
According to several sources at different brokerage houses, Ms. Landegger has been calling individual brokers to give word of the listing in hopes someone would have an interested client. While one source remembered Ms. Landegger naming the price as $60 million, three other sources confirmed it at $65 million. But as one top Brown Harris Stevens broker pointed out, "It frankly doesn't matter if it's $60 or $65—anyone who is looking at it for $60 would also be looking for $65."
Many brokers believed the apartment had been sold to Ms. Wasserstein for closer to its $47.5 million listing price, which would have made the $65 million asking slightly more palatable. But when The Observer confirmed through city records that the penthouse traded for under $35 million, reactions were incredulous. "What did she do?" exclaimed one broker. "Pour gold oil in the walls?"
Apparently, Ms. Wasserstein has completely remodeled what was a sponsor unit, and has done so beautifully. Though, as one source noted drily, "I don't know what she did but she certainly didn't add $30 million."
The 11-room apartment has 5,000 square feet of balconies and terraces overlooking the Metropolitan Museum of Art and Central Park and includes a rooftop addition and 11-foot ceilings.
Amenities at the converted Stanhope—which, incidentally, is on leased land, so one would be paying $65 million to lease a penthouse—include a private La Palestra spa and breakfast lounge, a library and an on-call wine specialist. Only one apartment is currently available in the building-the much-hyped, $28.5 million listing on the 16th floor-but Ms. Wasserstein's would make two.
Ms. Wasserstein, a former producer at CBS, and her late husband had two children together but separated in 2007. The cause of Bruce Wasserstein's untimely death last October at age 61 remains unconfirmed but is believed to be related to an irregular heartbeat. His sister was the Tony- and Pulitzer-winning playwright, Wendy Wasserstein (pictured with Claude), writer of The Heidi Chronicles, also the victim of an untimely death, in 2006.
At the time of the Stanhope purchase, Bruce Wasserstein was living in a combined two-unit apartment at 927 Fifth with his fourth wife, Angela Chao, who continues to reside there. His second wife, Christine, with whom the über-investor had three children, kept the couple's 15-room apartment at 1030 Fifth Avenue (until selling it for $34 million in 2008).
That makes at least three Wassertain-related apartments along Museum Mile. One down, two to go. As one source confirmed, "Bruce doesn't ever give up his homes."