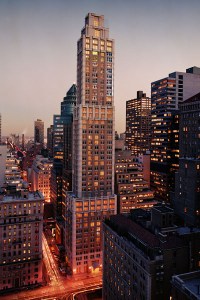 At 43 stories, 515 Park Avenue is the tallest residential building on the tree-lined avenue. This, according to the Web site Cityrealty, which goes on to describe the limestone tower as "slim" and "post-modern," a descriptor duo not often found hand-in-hand. Perhaps that's why Weight Watchers International chairman Raymond Debbane chose to spend $5.95 million on an apartment there, say city records. Or maybe it was just good PR for him to buy in such a beanstalk building.
Fortunately for Weight Watchers—the board of which Mr. Debbane has chaired since the company's 1999 acquisition by Artal Luxembourg—the American University of Beirut- and Stanford-educated businessman wasn't tickled by apartments in buildings such as The Fairchild in Tribeca or The Printing House in the West Village, both downtown developments that would inescapably be described as wide or, at least, plus-size.
The Invus Group founder who, in his free time, acts as president of the nonprofit Action Against Hunger in the United States, lists a Greenwich, Conn., residence as his address on the deed which would suggest the Park Avenue purchase will serve as a commuter's pied-à-terre. Mr. Debbane chose not to comment on his recent acquisition. The seller, hedge-funder Isaac Souede, currently on business in Asia, also politely declined to comment due to his hectic travel schedule.
The six room apartment—that's about $1 million per room, the three bathrooms thrown in to seal the deal like Payless' Buy One Get One free deal—flaunts new herringbone floors and custom detailed high ceilings. The Warburg Realty listing crows that in addition to the "gracious" living room with views of "verdant" Park Avenue, the three-bedroom abode has a "state of the art audio-visual/telephone system"—which might mean the apartment has upgraded to a cordless phone from a rotary, but specifics remain vague. In addition to herringbone floors, the 36-unit, Zeckendorf-built beauty offers the usual high-end amenities such as a "fully equipped health club" and "huge" private sitting room.
It looks like it's time for Mr. Debbane to stop dieting and start living at 515 Park.