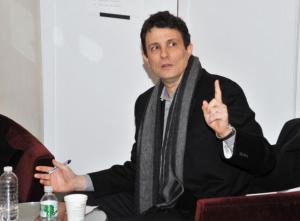 Fishbowl NY wondered how David Remnick ended up with such a laudatory piece in The Times. Turns out the New Yorker had pitched the idea to reporter Stephanie Clifford.
And, in case you were wondering, Ms. Clifford got her Si Newhouse quote–which the story mentions is no small feat–through Mr. Remnick, who nudged his boss to comment.
Ms. Clifford said Mr. Remnick commented on her interviewing style throughout. "It was a little bit like boxing with Muhammad Ali or something." (Mr. Remnick, you might recall, wrote a book about Mr. Ali.)
A press person for the New Yorker told Fishbowl they were "pleased" with the piece.