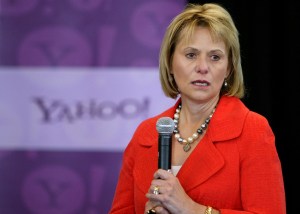 In her first year on the job, Yahoo C.E.O. Carol Bartz will make $47.2 million, according to the Associated Press. More than half of the package, which was outlined in the company's regulatory filing on Thursday, comes in stock options as an incentive for Bartz to turn the company around.
Her first year proved to be a mixed bag. Bartz generally impressed analysts by closing Yahoo's unprofitable services, laying off workers and saving even more money by striking an Internet search partnership with Microsoft Corp. But the recession contributed to Yahoo's biggest drop in revenue since the dot-com bust in 2001. Investors saw enough progress to lift Yahoo shares by 38 percent in 2009.
Sounds to us like much of Ms. Bartz's Year Two pay is going to depend on Jamie Mottram and his ever-expanding posse of bloggers.