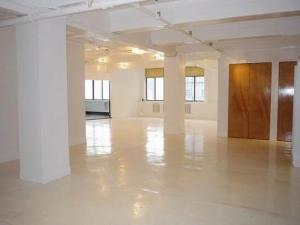 When beautiful people go looking for beautiful apartments, the garment district is usually the place they go to buy the outfit. But as couture makes way for condos, Sunday's high-end apartment seekers were exploring a potential new spot to see and be seen checking out 12-foot ceilings.
Pol Theis is not only beautiful people; he's their decorator. The former international lawyer has made bland apartments bold everywhere from Fifth Avenue to the Rue des Saint Peres. On Sunday, he glided around a nearly $4 million full-floor condo in an old clothing factory at 360 West 36th Street, between Eighth and Ninth avenues.
"This is one of the only districts where it's still authentic," said Mr. Theis, who lives in the Flatiron district and has been all over midtown south looking for a new loft to call his own. It's too early to say what his design dreams would be for the sprawling white space. "There's nothing structural. It's a wide, open box and you can create whatever you want with it."
Despite a flurry of new development, the garment district isn't up and coming, said broker Peter Browne. It up and came at least a decade ago.
"I sold my first apartment here in 1979," he said. "The area is changing." But the more things change, the more they remain in need of a good touch-up. "It's always been convenient" because it's close to downtown, said Mr. Browne. "It's always been cosmetically deprived."
The neighborhood benefited when nearby Hell's Kitchen became respectable, seemingly overnight. "The tentacles have gone out from there," Mr. Browne said. Though it's no longer possible to walk down the street and hear the whir of a hundred sewing machines, they've been partially replaced by the buzz of offices for, among others, Calvin Klein and Donna Karan, along with new residential buildings.
"There's ambivalence about the new development," said Mr. Browne, sitting in the loft's corner sunroom, as boats glided by on the Hudson behind him. Many people like the services, he said. "But other people I talk to say, 'My God, there's a 7-Eleven.'"
Lawyers, doctors and bankers have joined artists, actors and bohemians, according to several brokers. "People change neighborhoods," Mr. Browne said.
BUT BEFORE PEOPLE must come places to house them, and the garment district has seen those come up in abundance. At least nine rental buildings have gone up in the garment district and Hudson Yards area in the past few years.
Two blocks north at another open plan loft at 348 West 38th Street, Patrick Spearing walked in and headed directly for the windows. There he surveyed the view of the Hudson in the background and apartment towers in various stages of completion in the foreground.
Broker Georgia Asher crossed out the price on the brochure, which was just knocked from $950,000 to $850,000. "We're ready to move this apartment," she told him.
"How much do you know about the Hudson Yards project?," Mr. Spearing asked immediately. Ms. Asher said the nearby area is likely to improve, with plans for a park. But he squinted for several minutes, as if waiting for a few more reflective glass buildings to sprout before his eyes.
Ms. Asher, who sells primarily in the area, said she's noticed things picking up in the past couple of months. Five groups of potential buyers were by that day, including a filmmaker and a jewelry maker.
"It tends to be more adventuresome people," she said, surrounded by the loft's collection of antique chandeliers, a grand piano and two porch swings that hang from the ceiling. "It's not people who feel they have to live in the most established neighborhoods. They're very willing to explore new places."
Living in the building are a partner in a white shoe law firm, a former Goldman Sachs banker–turned–chocolate maker and a special-effects company exec. The neighborhood is also a hideout for celebrities and prominent families, according to Ms. Asher, because it offers Tribeca-style lofts without the bus tours.
Mr. Spearing, who works nearby for the government, came to see the apartment when it popped up on a Web site matching his criteria: "lofty, open and the right price."
He currently owns a loft 20 blocks south in Chelsea, but is starting to look for something bigger. "It has some future potential," said Mr. Spearing. "There's development, gentrification."
But before leaving, he offered an assessment as blunt as a critic sizing up the new season's line. "It's not as coveted," he said of the developing neighborhood. "The buildings are taller and there's more traffic. It's noisier and not as green."