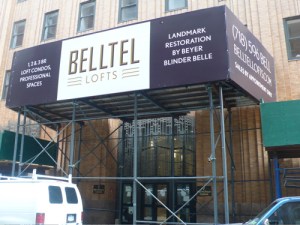 A Sunday afternoon real estate search in Brooklyn usually promises brownstones and bagels. But for those who find the borough's brick homes a little too classic and its homemade pastries more than a bit cloying, downtown promises home without the side of sweet.
On central Willoughby Street, there's more construction cranes than trees and the smell from Super Taco Plus is decidedly not organic. Even the sun, which usually seems to shine brighter in Brooklyn, is dimmed by the Brooklyner, a newly constructed apartment tower and the borough's tallest building.
A couple of streets down stands a towering—by mere 1930s standards—New York Telephone Company building where no phone pun goes unused in the ad campaign. The BellTel Lofts building at 365 Bridge Street also offers airy lofts with two outdoor terraces and a children's playroom. Condos start around $500,000 and go up steeply from there, to as high as $8 million.
On Sunday, the lobby was bustling like it was still the days of the $300 long-distance phone call. "We were a little surprised by how nice the area is," said Carmen Bryant, 35, who works for Time Inc. in Manhattan. "It feels new, modern. It doesn't feel shabby."
Ms. Bryant, her husband and her 10-month-old son live in a rental in Cobble Hill and heard about lofts in downtown through Brooklyn's ever-churning real estate rumor mill. "Prices are more than they should be," Ms. Bryant said. "But still better than expected." The couple has watched in the last year as prices in the area have dropped by as much as 30 percent.
"Brooklyn is starting to take hold, find some shape," said her husband, Kevin McDonald, 33, who works for the Federal Reserve Bank. But he worries the downtown area is overdeveloped. "People had to come to Brooklyn when prices in Manhattan were high," he said. "Now it's overdone."
Another prospective buyer, Paul Logan, 36, who lives at Flatbush and Atlantic avenues and works as a computer tech in Times Square, liked the spacious lofts but not the Wall Street feel. "I never come over here," Mr. Logan said. "There's probably a good reason. It's not very inviting." But, he added, "for the right price I'd live anywhere."
Terry Naini, a BellTel broker and resident for the past two years, was selling a loft on the sixth floor, with a huge, sun-filled living area, that's been reduced to $650,000—the seller bought it at the height of the market.
With two small kids and another appointment to get to, Ms. Naini double-tasked as an expert guide as she cut across Metrotech's urban park into a forest of new condo developments. "What I love about this neighborhood," said Ms. Naini, "is it's clean, with a little grit."
It's the fastest-growing neighborhood in Brooklyn, she said. That's tough to quantify, but there are plans in various stages of development for four hotels, major street renovations and a new Willoughby Square Park. As a Business Improvement District with an extra tax, the area also offers additional security, sanitation and festivals in the summer.
There aren't the same development restrictions as in most other areas of Brooklyn. "You can build monstrosities like this," said Ms. Naini with a smile, not a sniff, "and people will come and live in them."
But if development seems like a fad, 175 and 215 Adams Street have been around since the 1950s, long before Metrotech was a twinkle in half a dozen developers' eyes. Today, a one-bedroom apartment at 175 Adams with a newly renovated kitchen goes for $359,000.
"Brooklyn has an appeal," said one prospective buyer, Erica Messing, 32, who works in alcohol marketing and wants to escape studio living on the Upper West Side. That appeal is primarily affordable space—"at least enough for me and my things." But character? Not so much, she said.
The neighborhood's charm, say longtime downtown residents without choking on the heartfelt phrase, is its people.
"It's like downtown [Manhattan] but less touristy and less Disney," said Ginny Chen, 37, who works for a fashion design company in Hong Kong. She currently lives on Atlantic Avenue and was checking out a co-op on Joralemon Street at the edge of Metrotech and Brooklyn Heights.
"I try to make friends with people wherever I live," Ms. Chen said. "It's not a giant party on the streets, but people take care of each other."
Thirty-year Metrotech resident William Mayo, 34, sat at a picnic table for hours smoking and eying the newcomers with suspicion. He scoffs at talk of a "new" neighborhood. "The only thing that's changing," he said, "is it's getting more expensive."