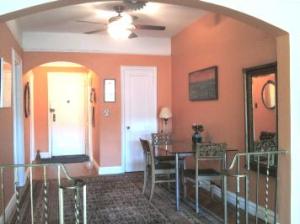 Inwood has rugged parks, misty river views and spacious one-bedroom apartments under $350,000. It's a Manhattan real estate fairytale still waiting for a happy ending.
People ask, "Has Inwood arrived yet?" said Lisa Castro, a broker, who moved to the neighborhood in 1993. "No, it hasn't."
Unfortunately the recession arrived before Inwood could. Now few are willing to make a Sunday outing to the last stop on the A-train, and the land of spacious one-bedroom co-ops with a Manhattan zip code remains largely a local secret.
At a sixth-floor one-bedroom for $334,000 at 91 Payson with views of Inwood Hill Park and the Cloisters, Suke and Loretta Cerulo came in flip-flops and jeans from their apartment on the second floor. They were looking for a retirement place for her mother, who lives in the suburbs with her own yard and is still on the fence about the lack thereof in Manhattan's high- and low-rises.
"There's peace of mind," in Inwood, said Mr. Cerulo.
"It's not as clustered," Ms. Cerulo added. It has its own mini-Central Park, but "you don't have to fight for a spot."
Ms. Cerulo, 35, who works at the Museum of Natural History, and Mr. Cerulo, 38, who teaches guitar, took the subway to the last stop two years ago out of frustration. They were renting in Hell's Kitchen and spent nearly five years looking at dozens of places in midtown that they couldn't afford to buy.
They kept their praise of the neighborhood quiet, fearing too many adjectives would attract the crowds they left behind at the Times Square station.
Dee McMillen rents in Inwood and had looked at three apartments to buy so far that day, including 91 Payson, with its herringbone floors and a tin ceiling in the kitchen.
"When we first moved we were looking at money, and this was just less money," said Ms. McMillen. Now she won't live anywhere else. She's fallen in love with the "wide-open spaces," which remind her of home in the South. "It's beautiful."
LATELY MORE THAN JUST a neighborhood with a park, Inwood seems poised to be the new Park Slope. "There are so many people walking around pushing strollers," said Ms. McMillen, who works in the Financial District and whose husband is a freelance musician. "I think I need a child to live here."
But in Inwood, gentrification shuffles along like the rumpled Irishman in the lobby who says he's lived at 91 Payson for 60 years. The artists and musicians that initially grabbed $50,000 apartments also remain here. There are posters on apartment doors for off-Broadway plays and a parade of black cases at dusk when musicians head toward the subway for Lincoln Center.
At a $357,000 one-bedroom at 100 Park Terrace West, broker Ms. Castro waited patiently for a potential buyer to arrive. Quiet open houses have been the norm all over the neighborhood in the last couple years, she said.
Still, an old Irish card shop has made way for a pet store, a smattering of health food stores, and the Indian Hill Cafe, where Sunday brunch is served to the tune of mildly experimental jazz.
With space to divide the living room into a second bedroom, the apartment calls out to a twosome soon to be three.
"We have our own stroller brigade now," said the broker, who has two children, 10 and 12. "If you don't know someone through kids or dogs, well, that's unusual.
"Is the island of Manhattan going to get any bigger?" said Ms. Castro. Absent a miracle, she predicts people will eventually have to come explore the northern tip of the island.
Corey and Marion Hayes, who are selling their own sunlit one-bedroom apartment at 270 Seaman Avenue for $349,000, were enjoying a peaceful—perhaps too peaceful—Sunday afternoon open house.
Ms. Hayes, 38, and Mr. Hayes, 44, hopped from Williamsburg to the Upper West Side, then finally to Inwood, in search of quiet.
"The only thing we hear is the Canada geese in the morning," said Mr. Hayes.
Ms. Hayes, a former teacher who works in finance, and Mr. Hayes, a freelance photographer, say the neighborhood still has the kinds of people long ago driven out of Manhattan and gentrified Brooklyn. "You still have teachers, blue collar workers," Ms. Hayes said. "It's like living in the old New York."