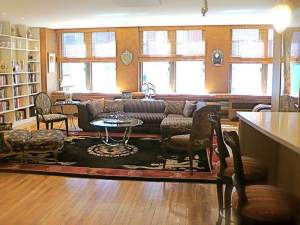 On the day a bunny delivers a bounty of hidden chocolate treasures, it's difficult to imagine who still goes hunting for roomy two-bedroom lofts. The answer this Easter Sunday was Wall Streeters with a rare day off.
At 176 Broadway, surrounded by banks and office towers, broker Glen Jackson looked longingly at the sun streaming through the loft's 12 arched windows. Most of the young families racing by with maps in hand were searching for sweeter rewards, but for the last couple of months he's shown the $950,000 two-bedroom to six to 10 groups a weekend, he said.
The neighborhood is changing, said the broker. While on weekends single young bankers once swapped suits for popped collars and designer bags, now the still-high-powered crowd sports flip flops and strollers. "A whole new generation is coming up through here," said Mr. Jackson. "It's mostly people that have families, two kids, that are looking to buy. You can get the room here."
The 1,827-square-foot apartment in two joined former office buildings has two small bedrooms plus a den. With enough space for the current owner's three small boys, there's probably room for anyone.
Ivan Martinez, 38, and Patty Adams-Martinez, 35, stopped by for a quick peak at 176 Broadway before Sunday brunch, still giddy from closing a deal on the apartment next door. "We saw so many high-rises," said Ms. Adams-Martinez, an entertainment writer. "This had charm and more space."
"We looked all over the place," said Mr. Martinez, who works in the financial industry, and plans to walk to his office. "But we could get much more square footage here." Because it's just a few blocks away from sky-high TriBeCa real estate, they can also take advantage of that neighborhood's coveted schools.
The views from the building's rooftop patio are "interesting," said Mr. Jackson—especially if one enjoys watching the slow progress of some office construction. There's no shortage of Starbucks and wine shops, but looking for a grocery store or dry cleaner offers a different perspective on the bounty of the market.
On Sept. 9, 2001, The New York Times reported a boom in converting offices in the Financial District to affordable co-ops. Then, just two days later, residential construction all but understandably stopped, according to brokers.
"It's a cliche," said Yuval Agranat-Getz, the broker at a $895,000 two-bedroom co-op at 55 Liberty Street, "but I think New York is just very unique for this neighborhood to rebound the way it did."
Now, selling to people in the financial industry is less than an ideal business, said Mr. Agranat-Getz. But "there are still a good amount of people who have jobs in this area."
After suffering damage to its unique terra cotta façade on September 11, the outside of 55 Liberty Street was recently restored. The apartment has small bedrooms but a wall of windows in the main room and is across the street from a park. The view of stalled construction sites, said Mr. Agranat-Gertz, "can only get better."
A few blocks away, at a 2007 condo conversion at 80 John Street, broker Jackie Chan-Brown has watched the area's ups and downs since she moved into the then-rental building in 2002. The open-plan loft she's selling for $649,000 has 11-foot ceilings and one of the few private terraces in its price range.
"It went from a ghost town to vibrant," she said. "It was booming until the Wall Street crash. Apartments were flying of the shelves. It was so hot it was unbelievable!
"Then," she said, "everything went bad." It's almost a relief, when the frantic rate of construction slowed. "We ran away from the Upper East Side," she said, "because we needed some elbow room." Now she belongs to a campaign—so far of one—to rename the neighborhood Gotham.
It may take more than a name change to sell the FiDi to some young families. Alex K. and his wife, with a son in tow, were on a mission to see seemingly every condo in the downtown area. Mr. K., who works—where else?—in the finance and technology industry, pulled out a spreadsheet of over 15 apartments they planned to visit.
"So far it's difficult to say that anything is attractive," said Mr. K. Then looking over at Ms. Chan-Brown, "But you're in our top three today."
As children tripped home with baskets of melted chocolate, Ms. Chan-Brown looked contented with an apartment key in one hand and a buzzing Blackberry in the other. She was especially overjoyed with e-mail that someone may be ready to make an offer on the apartment.
"I came down [to the area] for business—I didn't come to fall in love," she said. "But I'm where I need to be. I'll never leave!"