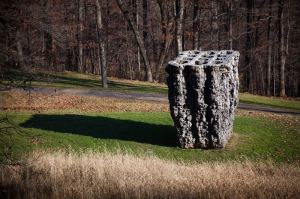 On Monday night, May 10, artists and critics gathered at Sotheby's to celebrate the 50th anniversary of Storm King, the 500-acre sculpture garden carved out of the Hudson Valley, and home to enormous works by such artists as Richard Serra and Alexander Calder.
"Bring a rubber hammer, you can work on one of my pieces," sculptor Mark di Suvero told The Observer before his speech. He turned to someone from Sotheby's. "How long do I have to speak for? Ten minutes?"
"Just five."
"If I don't choke."
Storm King is named for one of the two mountains it rests between. The name might reminded one of The Tempest, and I don't think that's a coincidence. Imagine it: isolated, quiet, peaceful, Storm King is like Prospero's island before Antonio's shipwreck.
Peter Stern and Ralph Ogden founded Storm King 50 years ago as an unprecedented space for viewing art: permanent installations, out in the open, exposed to the elements, most of which so large they require an outdoor environment.
Interpretations of the works would become as varied as the changing seasons in the Hudson Valley. The dying leaves of autumn make Maya Lin's 11-acre Wave Field a different piece of art than it would be in July's humid glow. Mr. di Suvero's nearly 50-foot-tall Mother Peace, characteristically constructed of red I-beams, would loom in a more menacing way at dusk than it would at dawn. Art defined by its context because the context is unstable.
The paradox is the unwavering relationship the place has with its artists: When artists collaborate with Storm King, they're in it for life.
"It's the granddaddy of sculpture parks," Johnny Swing said, holding an empty glass of Champagne and a half-empty martini, four olives. He donated a bench constructed of 1,500 half-dollars and 7,000 welds to the evening's silent auction. "They're good to me so I'm good to them." He doesn't do this everyday.
"I don't give anything away anymore," he said. "As an artist, do I have 'sucker' written all over me? But Storm King? It's like joining a family." He sighed, admiring an Alexander Calder sculpture, part of the Sotheby's collection. "It's incredible being here among all this art." He flashed a dazed look around the room. "Hey, would you like to meet one of Calder's daughters?"
"No, she left," Mr. Swing's wife said, appearing like an apparition. He handed her the martini. "She said she was bored."
Others, though, were more enthusiastic about celebrating Storm King's anniversary.
"For me and many others, it's become the thruway landmark," said Michael Brenson. "I can feel the presence of Mark di Suvero's Pyramidian. The art center tells me where I am."
Ursula von Rydingsvard's For Paul sits on an expansive slope in Storm King. It stands more than 17 feet tall and looks as much a part of the landscape as the grass and the trees. Storm King is the only place the sculpture could exist, and, appropriately, Storm King is the only place it will ever exist.
"I want to make a home-cooked point having to do with what makes us feel alive," Ms. von Rydingsvard said, speaking to the crowd. "Go ahead, George," she shouted to the back of the room. "When a Man Loves a Woman" began playing through the speakers. Yes, at Sotheby's. "I know you've seen a lot of art," she said to her audience.
"He'll trade the world for the good thing he's found," Percy Sledge sang.
"I'm convinced of the possibility of art to open up our emotional cores," Ms. von Rydingsvard said. "Especially sculpture on which the sun shines."
mmiller@observer.com