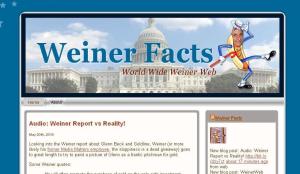 On Wednesday, a day after Anthony Weiner issued a scathing report about the gold dealer Goldline–which Mr. Weiner accused of using conservative commentators to "prey on the public's fears of inflation and socialist takeovers"–Glenn Beck compared the congressman to Joseph McCarthy, and claimed he was using the power of Congress to try and force Mr. Beck's show off the air.
And Mr. Beck started a Web site. The site, WeinerFacts.com, mixes some linked facts with insinuations about the Brooklyn congressman, along with photos of hot dogs.
"He's attacking the messenger and not addressing the message," said Mr. Weiner, who said he had seen the site on Wednesday but hadn't looked at it since. "I think ultimately Fox News and his radio station and he are going to have to answer the questions about this advertiser and about their role in promoting them."
"The focus of my report was not primarily [Mr. Beck's] show. I haven't called for him to be shut down, I haven't called for him to be sanctioned. He's got to live with himself," Mr. Weiner said. "I don't know where the McCarthy charge comes from. I'm not trying to do anything more than protect his viewers from him."
"Weiner facts" was a trending topic on Google until about mid-day yesterday, then fell off. But, after Mr. Beck encouraged his radio listeners to "just Google Weinerfacts all day long," it appears to be back in the top ten.
UPDATE: A spokesman for Stu Burguiere, the executive producer of The Glenn Beck Program–Mr. Beck's radio show, which seems to have taken the lead in the Weiner Facts effort–emailed a response. "We appreciate Congressman Weiner checking out the web site, but this is not just about him. This is a comprehensive source of weiner information. We encourage him to check back often."