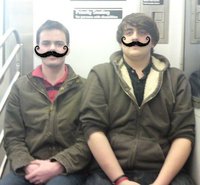 "Asa Aarons has dedicated his career to helping people solve the problems of everyday life," says the New York 1 consumer reporter's bio.
Trevor Smith, Mr. Aarons' 18-year-old son, has a similar calling.
Mr. Smith has been arrested for producing and selling fake out-of-state driver's licenses to other minors, according to the Post.
Mr. Smith, a freshman at Baruch College, brought a sense of pride to his trade, using holograms in his cards to make them look more official. He also would not sell his fake IDs to noncitizens or anyone under 18, according to one police officer.
Mr. Aarons did not return the Post's request for comment. Mr. Smith's mother said she thought her son was simply changing the birth date on real IDs.