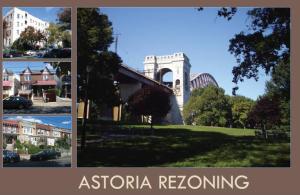 The City Council on Tuesday afternoon adopted the Bloomberg administration's planned 238-block rezoning of Astoria, one that mostly restricts new out-of-scale development in the low-rise neighborhood.
The rezoning, which covers Councilman Peter Vallone Jr.'s district, was relatively uncontroversial (rezonings that restrict developments rarely are). Of course, as the Furman Center at NYU has pointed out, rezonings such as this restrict the amount of new housing that can be built citywide, exacerbating the housing shortage.
Here's Mayor Bloomberg, in a statement:
Protecting the character of our residential neighborhoods while providing opportunities for mixed-income housing and new job growth have long been priorities of our Administration. The rezoning of Astoria epitomizes both of these goals, strengthening one of our great neighborhoods. We've now updated the zoning for more than 8,600 blocks citywide, with more than half of those in Queens.
ebrown@observer.com