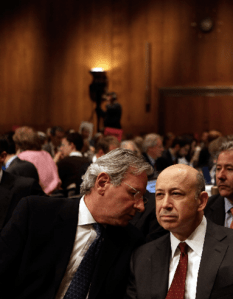 When the Journal and the Financial Times sent Wall Street into a bit of a tizzy today by reporting that Goldman may avoid fraud charges in its settlement with the S.E.C., it was just another chapter in the colorful history of gossip on Sachs settling. But, so far, the scuttlebutt has been pretty wrong.
Today's Journal story declared that the fraud-less settlement would set the stage for a "rebound from the public-relations and stock-price hits" the firm has suffered. Talk of that rebound goes back to at least late April, just a little while after Goldman's now-famous appearance in front of a Senate committee, and less than two weeks after the suit itself: That's when "sources familiar with the matter" told the Post that Goldman "may soon settle."
On May 6, Fox Business' Charlie Gasparino, citing "legal experts, rival CEOs and even people inside Goldman," reported that Goldman would settle for somewhere between $1 to $5 billion, which very quickly became part of the lore. Wonderfully, one reporter wrote about the range while admitting he'd only heard about the Fox report. That day, the Times' excellent Peter J. Henning wrote a 1,400-word piece on what a settlement would look like; the next morning, the Journal reported that Goldman's chiefs had held their first settlement talks with the government, "a sign that executives are scaling back their combative stance."
Then the fun started. Last Friday, a story on the Bloomberg wire reported that analysts "predict Goldman Sachs Group Inc. will pay $1 billion or more." Linking to that story, the Journal had an item whose headline said, "Are Goldman and the SEC Heading Toward a $1 Billion Settlement?" The paper asked, "a little smart prognostication never killed anyone, did it?" The influential blog Zero Hedge reported that the rumor that Goldman had settled was "taking the street by storm." That was picked up by Reuters–and then, in a splendid bit of irony, by the Journal, who was later blamed by Zero Hedge for sparking the rumor in the first place. Goldman hadn't settled, but the hubbub sent its stock up 5 percent.
Yesterday, leading up to today's new round of rumors, the analyst Brad Hintz pinned the settlement number at a pleasantly specific $621 million.
Despite what one might think after all this, settlements sometimes do actually happen. After four years, the hedge fund titan Arthur J. Samberg and his Pequot Capital Management just agreed to pay $28 million to settle fraud charges. Mr. Samberg neither admitted nor denied guilt.