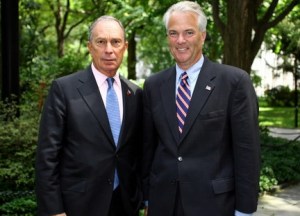 Michael Bloomberg isn't on the ballot this year, but he's backing a handful of candidates who are.
Here is a brief list of Bloomberg's candidates, or as I like to call it, the Bloomberg Slate:
Dan Donovan: The Republican Staten Island District Attorney, who is up for re-election next year, is for now the only GOP candidate for attorney general. A former Bloomberg spokesman is on board with the campaign, and Donovan wasn't shy about telling the Wall Street Journal that the mayor has been encouraging him.
Mike McMahon: The mayor is hosting a fund-raiser for the freshman Democratic congressman, who represents Staten Island and part of Brooklyn. McMahon drew criticism from Democrats for voting against the health care reform legislation. The mayor also opposed the bill, saying it'll cost New York lots of money.
Sam Hoyt: The Democratic assemblyman from upstate is supporting legislation to lift the cap on charter schools, something that isn't, for now, backed by the leadership in that legislative body. Lifting the cap on the number of charter schools that can open in New York is among the mayor's key legislative priorities in Albany.
Basil Smikle: A Democratic operative whose former employers include the Clintons and Fernando Ferrer. But he's throwing his hat in the ring to run for State Senate in Harlem against Democratic incumbent Bill Perkins, who is an outspoken opponent of charter schools. Smikle, as a consultant, also ditched his mayoral candidate last year, Anthony Weiner, and went to work for Bloomberg's re-election campaign. Smikle's focus on charter schools is, no doubt, in line with what Bloomberg hopes gains traction in Albany.