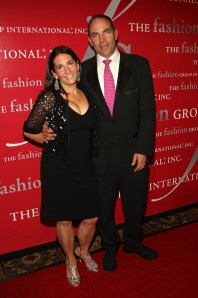 In an interview with The New York Times this past January, makeup magnate Bobbi Brown confessed,"When I interview someone, I know in the first two minutes if I like them or not."
Well, it seems the same might be true of apartments. The creator of the eponymous cosmetics brand and her husband, Steven Plofker, a lawyer and real estate developer, usually reside in a 1915 Craftsman home in Montclair, N.J., with winter or summer jaunts to their homes in Telluride and East Hampton, respectively. However, according to city records, the couple, who have three sons, have purchased a $1.9 million apartment at 1 Fifth Avenue in the heart of Greenwich Village with views of Washington Square Park and the Washington Mews.
The apartment was listed in December 2009 for $1.695 million, but Prudential Douglas Elliman's Holly Parker, who had the listing, told The Observer, "People were begging to see it before it was even listed. They were asking to see it before they went away on vacation. It was basically on the market for 72 hours. It was sold before the end of the holiday."
Asked if the higher sales price indicated more than one interested buyer, Ms. Parker replied enthusiastically, "We had four bidders!"
And it's easy for the real estate pornographer to see why. The "Gold Coast mint renovated" two-bedroom is a corner apartment with south, east and north exposures with views of the freshly renovated Washington Square Park and "a birdseye view of one of the most charming blocks in the city."
These days you'd be hard-pressed to find Ms. Brown personally face-painting but back when her brand was fledgling–it nows sells in hundreds of stores and is available in over 30 countries–the make-up maven could be found arching the eyebrows of a litany of flawless-faced warriors such as Meryl Streep, Cindy Crawford, Meg Ryan, Catherine Zeta-Jones, Brooke Shields, Diane Sawyer, Susan Sarandon and Drew Barrymore–just to name a few.
Ms. Brown continues to oversee her eyelining empire which, in her own words, she began, "by myself, with one lipstick" in the early 1990's. Her and Mr. Plofker's recent real estate acquisition is particularly convenient considering her company's recent move downtown for corporate headquarters. But don't worry, she's not always stuck behind her desk, the cosmetics queen is also the author of four best-selling beauty books and appears regularly as the in-house beauty editor on the Today Show.
Fortunately for Ms. Brown, who is known to be very particular about her diet—all office meetings and conferences must follow a constantly updated menu of acceptable food choices that is sent around to all employees—the previous owners were "two fantastic cooks," according to the listing, who "did not spare any details when they renovated their kitchen to fit their superior needs and sophisticated style." Ms. Parker confirmed, "It's a prewar apartment but the previous owners renovated it with a beautiful big open kitchen."
It's our guess that Mr. and Ms. Brown will use the parkside retreat as an urban pied-à-terre. But hearing Ms. Parker swoon "in the afternoon there is beautiful, direct sunlight," it sounds like you'd never want to leave.