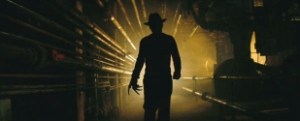 The real box office story this weekend was not in America, where New Line's A Nightmare on Elm Street dominated a weak field, but overseas. Iron Man 2 debuted in 53 foreign markets, raking in $100.2 million and building anticipation for its stateside release next weekend. (The first Iron Man pulled a $98.6 million opening weekend in 2008, 15th best box office debut of all time.)
The take for Sam Bayer's remake of the original Nightmare, in its first weekend, matched its modest production budget, just over $30 million. The 1984 version was followed by seven sequels, so look for Freddy Krueger to be back again and again (again).
Also opening this weekend was Brendan Fraser's Furry Vengeance. Fraser plays a real estate developer who is attempting to build over a forest. The furry animals torture him in response. In one scene, Brendan Fraser burns his face with hot coffee. Ouch! The reviews were lousy, the receipts even worse.
1. A Nightmare on Elm Street: $32.2 million ($32.2 million total)
2. How to Train Your Dragon: $10.8 million ($192.3 million total)
3. Date Night: $7.6 million ($73.6 million total)
4. The Back-Up Plan: $7.2 million ($22.9 million total)
5. Furry Vengeance: $6.5 million ($6.5 million total)
[via Box Office Mojo]